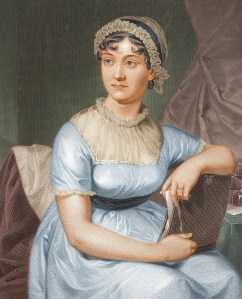 Author Jane Austen, one of Britain's most successful exports (besides gin and the English language), could be the new face of the 10 quid note, reports The Guardian.
The beloved British novelist  is "quietly waiting in the wings," Sir Mervyn King, the retiring governor of the Bank of England, told the Treasury select committee. 
The announcement comes amidst uproar over the lack of women featured on UK currency. Mr. King caused a backlash last month when he said that prison reformer Elizabeth Fry, who is the only woman who currently appears on an English banknote (besides the Queen, naturally) would be replaced by Winston Churchill in 2015. The announcement prompted threats of a lawsuit for discrimination under the 2010 Equality Act.
Only two women (again, besides the Queen) have appeared on currency since images of historical figures first began gracing British banknotes back in 1970. In addition to Ms. Fry, nurse Florence Nightingale has been featured. Other writers who have been featured have all been men, including William Shakespeare and Charles Dickens.
But Ms. Austen is a pretty classic choice. Not only have her books made some great movies and helped launch the career of Colin Firth, but money is a vital important theme in her novels.
"Nobody has put money to better uses in their novels than her," John Mullan, professor of English at University College London told The Guardian. "There are plenty of novelists who think that money is important and make you aware of that when you are reading, but she makes her characters aware of it, which is a rather more brilliant thing.
Like many an avid Jane Austen reader, Ms. Mullan went on to cite specific examples from the novelist's work.
But alas, don't start counting those £10 notes with Ms. Austen's likeness yet. The final decision will be made by the incoming governor of the Treasury, Mark Carney.