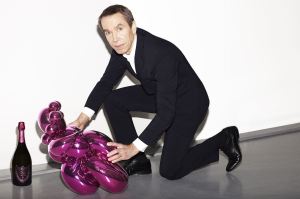 Jeff Koons has teamed up with Dom Pérignon on a limited-edition rosé package that will retail for $20,000. It is a 2003 vintage, which the company's chef de cave (cellar master), Richard Geoffroy, tells WWD is "as bold, as provocative…as full bodied, intense, sensuous as can be." That's actually also a pretty good description of Mr. Koons's amazing show at Gagosian Gallery right now.
The package also comes with a miniature version of that incredible fuchsia Venus of Willendorf that's on view at Gagosian, and only "a few hundred" will be made, according to WWD. Sounds great to me. If you end up buying one, I'd love to have a glass, or take the edition off your hands if you're only interested in the wine. (My e-mail address is below.)
Why did Mr. Koons agree to the project? He explains: "I don't do very many product associations…But you know Dom Pérignon is a fantastic brand, a wonderful Champagne. Champagne is used on many occasions for celebrating." In all seriousness, I don't understand how anyone can resist him.