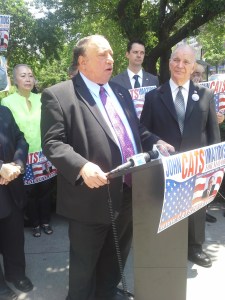 Republican mayoral candidate John Catsimatidis hinted to reporters today that he had testified in an investigation pertaining to the City Council, but declined to provide any further details.
"I'm not sure I'm allowed to talk about it but there are a few investigations going on that I am privy to," Mr. Catsimatidis said in Queens today after being asked why none of the Republican City Council members had endorsed his candidacy. All have chosen to side with his rival, former MTA Chair Joe Lhota instead.
Mr. Catsimatidis refused to elaborate on whether the alleged investigations concerned the council members or Mr. Lhota. One Republican councilman, Dan Halloran, was arrested in April and charged with quarterbacking a bribery a scheme to try to get State Senator Malcolm Smith on the mayoral ballot. But Mr. Catsimatidis implied these investigations did not involve Mr. Halloran.
"There were certain situations going on where there were threats made with people losing their city jobs if they didn't do certain things certain ways," said Mr. Catsimatidis. "You ever heard about that? I'm not allowed to talk about it."
When Politicker pressed Mr. Catsimatidis, who made the remarks after the endorsements of various Queens Republican candidates were announced outside of Queens Borough Hall, how he knew about these investigations, he smiled.
"Maybe I testified," he said.
Reached for comment, Lhota spokeswoman Jessica Proud was not amused.
"John consistently demonstrates a reckless relationship with the truth," she told Politicker. "He is tossing out scurrilous claims to distract from his flailing candidacy. The only investigation going on was when his closest campaign advisor and counsel to his company was brought out in handcuffs."
Upon seeing Ms. Proud's remarks, the Catsimatidis campaign decided to return fire early Friday evening.
"The only 'reckless relationship with the truth' is coming from the Lhota campaign; two of their key supporters Councilman Dan Halloran and Bronx Chair Jay Savino were led off in handcuffs," Catsimatidis spokesman Rob Ryan told Politicker. "The Lhota campaign seems intent on throwing mud, how sad."
Update (6:17 p.m.): Added remarks from the Lhota and Catsimatidis campaigns.