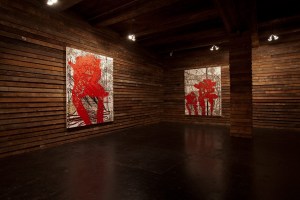 Julian Schnabel will open an exhibition space on the ground floor of his West Village home, Palazzo Chupi. It will be called Casa del Popolo. The news comes from Creative Times' Tumblr. (The nonprofit honored Mr. Schnabel at their annual gala back in April.)
According to Casa del Popolo's website, it will be a "community exhibition space." The first show will feature six paintings by the artist Nick Mead, curated by May Anderson, who has worked as an assistant director at the gallery The Hole and is Mr. Schnabel's partner.
In a statement on the website, Mr. Schnabel said, "This is the first installment of a program to show the work of other artists and an opportunity to collaborate with people who present unique perspectives on art that I believe in. I wanted to open part of my house to the public so they could have an art experience 'far from the maddening crowd.'"
The first show opens June 18.