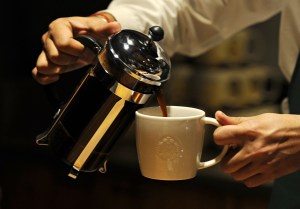 Let them drink coffee!
New York Senator Chuck Schumer is calling for colleges to crackdown on so-called study drugs, such as Adderall and Ritalin, by implementing stricter regulation. Oh, and by encouraging students to trade in their pills for a pot of joe.
"There are better ways to pull an all-nighter and stay up," he said. "There's coffee, there's things like NoDoz." (Or better time management skills? Anyone?)
Between 15 and 35 percent of college students report using study kush as an academic tool, according to the Village Voice. Along with drinking a little more coffee, Sen. Schumer urged universities to begin monitoring prescribed student usage and getting parents and practitioners to sign off on diagnoses.
"For somebody to call up and say 'well, my doctor prescribed it at home, send me pills, here's the prescription number,' that's not good enough," Sen. Schumer said. "If a student gets 100 or 200 Adderall pills, even if they are legitimately entitled, they may lend a bunch to their friends."
But what happens when this new breed of java junkie begins brewing in bulk and lending a bunch to their friends? What if they open up stores dedicated to their beloved beans? What then, Sen. Schumer?