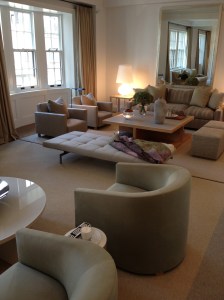 Just when we were starting to fret that hundred millionaires would be left out in the heat, along comes the Marquand.
The Marquand is an historic building, built 100 years ago on 68th St and Madison Avenue. In celebrating its centennial this year, the building has been completely remade into a modern luxury condominium.
The starchitect behind the project is Lee Mindel of Shelton, Mindel & Associates.
"We updated its prewar upstairs-downstairs plan while preserving its volume and grandeur." Mr. Mindel confessed to Architectural Digest.
The 3,800 sq ft apartment The Observer toured felt quite homey, but we were assured that the western facing version was more roomy, and over 4,000 sq ft.
Mr. Mindel, along with developer Ziel Feldman went all in on the project. All designer fixtures (Sub-Zero and Wolf, natch), Duravit Happy D toilets in all three bathrooms, white onyx stone walls, and Hauteville limestone floors.
The specifications even include custom medicine cabinets, because storing aspirin in anything but custom cabinets might evince the boorish manners of a West Sider.
Central Park views are featured from the eighth floor and up (including the 14th floor, where there are two triplex penthouses).
While the lower level of the building hasn't been completely redone yet, the Marquand's plans include an "intimate lobby" with onyx reception desk (when did the wood of the reception desk become a point of pride?), doorman, kids' lounge, and fitness and strength center.
There are 22 refurbished units, with the most affordable starting at a modest $15 million. Douglas Elliman has the listing.