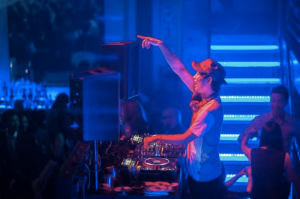 Talk about a picky bouncer.
Times Square nightclub Circle NYC is no stranger to accusations of racism regarding whom they choose to let past the velvet rope. On Thursday, however, those complaints came to the fore when the megaclub was slapped with more than $20,000 in fines for its history of discriminatory practices.
In an announcement, New York Attorney General Eric Schneiderman noted that Circle has long been admitting Korean patrons, often for free, while barring those of other races—unless they paid a steep fee, that is.
"The methods of exclusion included forcing those of latter groups to make reservations in advance, or buy expensive bottle service, while not requiring the same of the club's Korean patrons and enforcing the nightclub's dress code unevenly," the Attorney General's Office revealed.
Patrick Thomas, an African-American who testified in the Civil Rights Bureau's investigation of the club, expressed his disbelief after being arbitrarily turned away by a bouncer.
"When I realized that I wasn't getting into Circle because of my race, I was shocked," Mr. Thomas said in a statement. "Nightclubs, restaurants, theaters, hotels and other businesses can't just shut people out because of the color of their skin or where they are from."
Mr. Thomas added that he felt "insulted and degraded."
Per the agreement announced yesterday, Circle will dole out between $500 and $2,000 to all those with stories similar to Mr. Thomas's. The club's owners additionally promised to craft a new dress code and reservation policy and make sure its employees operate "in a fair non-discriminatory manner."
"Any business in New York State that is open to the public must be open to all races and ethnicities," Mr. Schneiderman concluded. "Discrimination will not be tolerated. That's just as true in New York City's vibrant nightclubs as it is anywhere else."