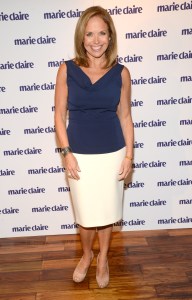 On a rainy Monday, Marie Claire threw a luncheon at Marea, the chic Columbus Circle seafood spot, to commemorate the 50th anniversary of the passage of the Equal Pay Act. And how better to acknowledge the state of working women (we hear they are leaning in of late) than by eating lobster salad and listening to highly accomplished women recount their early successes?
Speaking at the lunch were Tory Burch, Senator Kirsten Gillibrand, Sarah Jessica Parker and Katie Couric—who were featured in a spread in this month's magazine along with Serena Williams, who was expected to attend but was stuck in Paris doing publicity after winning the French Open.
Anne Fulenwider, who returned to Marie Claire to replace Joanna Coles as editor in chief last September, played emcee for the afternoon. 
"Now that you have your own daytime show, Katie, the only time slot left for you to conquer is late night," Ms. Fulenwider said when introducing Ms. Couric. "So, if there's anything you'd like to announce, we're all ears."
Over the weekend, The New York Post's Page Six ran an item claiming that the future was hazy for a third season of Katie, Ms. Couric's ABC daytime show. Perhaps, the Post speculated, Ms. Couric might follow her former executive producer Jeff Zucker to CNN.
But no announcement was forthcoming. "Is there anything better than a room full of fantastic women? I say absolutely not, right?" Ms. Couric said. "I love the smell of estrogen in the morning, or in the afternoon."
Ms. Couric congratulated Ms. Fulenwider on helming Hearst's thinking-woman's mag.
"We have a lot of story meetings on the show, and inevitably, when someone pulls out an article, it is from Marie Claire," Ms. Couric said.
Despite being the first woman to anchor the evening news solo, Ms. Couric said that she is held to different standards than her male counterparts. "I always joke that I got into television news at a time when 'harass' was two words instead of one." Ms. Couric waited as the crowd worked out the joke.
"When I became the first female anchor of the CBS Evening News, people talked more about the fact that I was wearing a white jacket after Labor Day," she said. "So it's clear that women continue to be held to a higher standard in many industries, not simply mine."