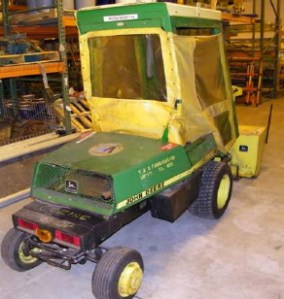 What? The MTA Surplus Material Sale is ending already? A sale this good should last three months at least.
Yes, it's that time of year when the Metropolitan Transit Authority sells off its old office junk, things found on subways and, for some reason, a bunch of mid-2000 sedans. And this incredible blowout only lasts four more hours.
Need a seat back insert? Of course you do! They even come in a choice of Kent or Gotham Blue. What about a John Deere tractor snow blower? No more snow days for you! Or fork-lift your spirits with this gem from Hyster.
Concerned about fake 100 dollar bills? Who isn't? Worry no more with this Accubanker counterfeit note identifier. (This could actually come in handy.) And for the fashionista, all the rings, necklaces and earrings you could ever need. All in one convenient location!
The sale ends today at 6 p.m. EST. All bids must be mailed or faxed, because apparently the MTA is selling all the computers it owns.