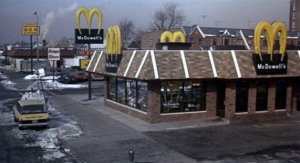 Much like Eddie Murphy's run as a relevant comedian, all things must come to an end.
A famed landmark from Mr. Murphy's 1988 classic Coming to America is being torn down to be replaced by a $105 million luxury apartment complex.
McDowell's, the faux McDonalds where Mr. Murphy's character Prince Akeem works as a janitor while living the life of a immigrant, was a key location in the movie.
"There is an attachment to the brick and mortar, but everything crumbles in time and you have to make way for the new stuff," John Amos, who played McDowell, the proprietor of the restaurant in the film, told the Wall Street Journal. "I guess they call it progress, and in the process we lose a lot of memories."
The building, which was converted to a Wendy's, remained in McDowell's shadow until its last day. A quick comparison of the Yelp reviews for both "establishments" shows that customers preferred Mr. Murphy's former employer over the brick and and mortar reality.
"I went to eat here one afternoon and was greeted by the super friendly janitor.. i think he's from africa or something because he had a thick accent.  the food here is average but the staff is great!  i've even seen the janitor and the guy working behind the counter stop a robbery! rarely do you see brave heroic acts like this," Stanley F. wrote earlier this year on Yelp. "oh yeah, who the heck robs a fast food joint?"
[youtube http://www.youtube.com/watch?v=m61eBU61Y1c]
Compare that to the reality of the Wendy's location and we can see why customers were … disillusioned, to say the least.
The ever-helpful Camille M. wrote about the restaurant too long ago.
"The obese homeless man that previous reviewers have written of has long since been kicked out of this place.

The problem is that for some reason this sour, off putting stench still remains in the air throughout the dining area.
I'm really not sure why this is, since a good amount of time has passed since he's last been seen there.
And yet, it still smells like he's sitting at his standard corner table.

Aside from that, there always seems to be a long line and the employees don't really hustle in any attempt to keep it moving.
Expect a wait.
And some attitude.
Because some of the people who work there have a lot of it.

My only complaint with the food is that the salads are always damp, and taste as though they've been sitting around for days.

Everything else is alright, but how can they really mess up re-frying pre-cooked food?

Go through the drive through, or suffer the stench."