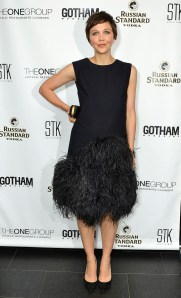 Actress Maggie Gyllenhaal had spent Tuesday night at the Cinema Society premiere party for her latest film, White House Down, in which she plays an uptight Secret Service agent. The next evening she was on the red carpet again, this time at the West Village's STK Rooftop, where Gotham Magazine was celebrating their first summer issue with Ms. Gyllenhaal on the cover (and Russian Standard Vodka sponsoring the event). Other attendees included EIC Catherine Sabino, publisher Suzanne Ruffa and Rohan Marley.
Since the premiere of the Channing Tatum/Jamie Foxx flick about saving the president from a group of rogue paramilitary troops happened to coincide with several watershed moments in American politics–everything from the security leaks at the NSA to the Supreme Court's rulings on gay marriage and the Civil Rights Act–we asked the feather-clad actress if she'd been fielding a lot of questions about her personal politics.

"Yes and no," said Ms. Gyllenhaal, toying with her Alexander McQueen clutch. (Her Black Swan outfit was from Dries Van Noten Fall 2013 line.) "I think the most important thing is just transparency right now. You know? That were are told the truth."
"Because if we are told the truth, we can be in a democracy that really works," she added. And if her interview in Gotham is any indication, Ms. Gyllenhaal applies this credo to her own life as well: she didn't shy away from addressing the embarrassing rumor from last year that she had been sending someone else to cover her duties at the Park Slope Food Co-op. On the co-op's policies, she told the magazine:
If you forget for the third time, you get fired and can't shop there anymore. I signed up again because Peter is obsessed with the co-op—he loves it. I thought, "What is my problem? I can't work for three and a half hours a month?"
Also, she likes living in Brooklyn better than Manhattan, but that's not news to anybody, is it?