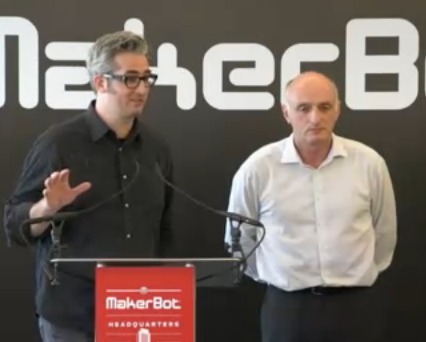 "This is a dream come true for an entrepreneur," gushed MakerBot CEO Bre Pettis at this morning's press conference announcing his company's acquisition by Stratasys. "It's an exciting new day for us."
But much of the brief event was devoted to reassuring everyone that the quirky Brooklyn startup won't change, even though it's now a subsidiary of a massive, publicly traded company.
"MakerBot is MakerBot is MakerBot," Mr. Pettis promised, after waxing nostalgic about the days when the company was so strapped for space that they once rented a Brooklyn apartment and started shoving in desks."We're a special place."
MakerBot will remain independently run, he promised, and Thingaverse.com isn't going to change, either. The company simply gets access to Stratasys's know-how, resources and international infrastructure. "We wouldn't do this if it wasnt going to be a total win for everybody who works here at MakerBot and, frankly, for New York City," he said.
Stratasys CEO David Reis echoed Mr. Pettis's reassurances: "The story of this merger is growth. Growth, growth, growth." It's not about cost-cutting or efficiency, but about "merging with a total ecosystem, an ecosystem that I think will lead the future of desktop printing."
Mr. Pettis even signed off on his new coworkers from Minnesota, in true chipper Silicon Alley cheerleader style: "excited to get to know them," he said. "They're cool."
"I was never described as cool in the last 25 years," the delighted, button-down-clad Mr. Reis responded to the compliment.