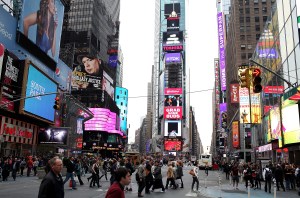 A 43-year-old man was stabbed in the chest in Times Square this afternoon, police sources told The Observer.
The incident took place in broad daylight just after 2 p.m. right outside the Disney store after two men who appeared to know each other began fighting.
The two men were seen arguing near 45th and Broadway, before one attacked the other with a folding chair, the New York Post reported. After being hit with the chair, the assailant stabbed his acquaintance.
"The dude picks up a folding chair and starts flailing on the other guy. He stabs him and jets," Mitch Harper, a clerk at a local jewlery store, told The Post.
A brave bystander interrupted the attack and helped the wounded man. The attacker fled and the bystander applied pressure to the wounded man with an iconic "I <3 NY" t-shirt.
The police are still searching for the suspect, described as a black male in his 40s.  The victim was transported to Bellevue Hospital with non-life-threatening injuries.