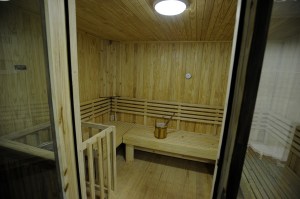 That's an icky situation.
In a cringe-inducing lawsuit, Manhattanite Mark Moskowitz is suing Bally Total Fitness for injuries incurred when he slipped in the sauna in their E 55th street location.
His lawsuit claims that the slip was caused by a "foreign white substance." Use your imagination folks.
Mr. Moskowitz also claims that the management of this particular Bally's knew of gay "cruising and lewd behavior" that is "commonplace at the steam room, sauna and locker rooms."
Cruising, for those not knowledgeable in the subject, is the "the act of searching for homosexual partners in public places," as defined in the lawsuit, obtained by the Daily News.
"As a result of the aforementioned activities, there was bodily fluids and other evidence of sexual activity wherever it occurred throughout the gym," Mr. Moskowitz claimed in his statement.
More than just knowing of the activity, Mr. Moskowitz alleges, staff members endorsed the behavior. Rather than going in to clean up after the activity, employees "left a hose and liquid soap"  for self clean up, according to his suit.
As Google reviewer Dima Korzhyk put it, "The locker room is dirty and smells bad." Hm, I wonder why.
While Mr. Moskowitz didn't specifiy a monetary compensation for the lawuit, we're sure a lot of it will be for pain and emotional suffering.