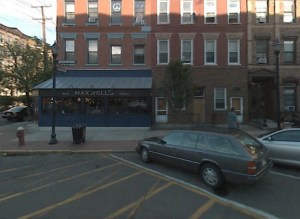 Maxwell's, the legendary Hoboken rock venue and restaurant where, in 1985, Bruce Springsteen filmed the video for "Glory Days," will shut its doors at the end of July, according to an article by Tris McCall of The Star-Ledger.
Todd Abramson, the club's owner and booking agent who also books the Bell House, in the Gowanus section of Brooklyn, told Mr. McCall that it was time to move on, "given the changing nature of Hoboken and the difficulties of trying to run a business in this town." (Those difficulties, he said, run the gamut from parking to a culture "driven by reality TV.")
In the coming weeks, performers at Maxwell's, on Washington Street near the corner of 11th Street, will include the Mountain Goats (June 5), The Pastels (June 15) and Imaginary Cities (June 21).
But the last show, Mr. Abramson said, will feature the band called a, the first group to perform at the club, which, since 1978, has nurtured New Jersey stalwarts like the Bongos, also to perform on closing night.