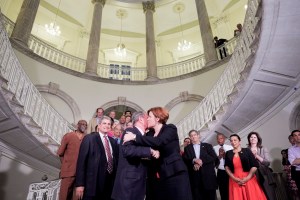 For one, it marked the end of an era, his last governing document over the finances of the city he's run for the past 12 years. For the other, it marked the start of a new chapter, her chance to celebrate the early budget she hopes to inherit come January.
Mayor Michael Bloomberg and his wannabe successor, City Council Speaker Christine Quinn, unveiled the duo's final budget deal Sunday evening, surrounded by fellow council members in the grand rotunda of City Hall.
With a handshake and kiss on the cheek following lots of applause and accolades, the pair announced a $70 billion deal that restores threatened cuts to libraries and childcare, prevents fire house closures, and adds an extra $58 million to the New York City Housing Authority to help plug a $200 million budget hole caused by federal sequestration cuts.
But despite the significance of the occasion, Mr. Bloomberg was short on sentimentality, brushing off questions about how he felt securing the final budget deal of his three-term tenure, which will oversee the first six months of his successor's first year in office.
"We're happy to have a conversation, but let's keep focusing on the city budget, what we together have all been able to achieve," he said, later noting the lack of drama that came along with this year's budget compared to previous years.
"Look, there's not a lot of news here because this mirrors the last year budget very carefully–not totally … and it was done responsibly and it was done without a lot of acrimony and a lot of everybody posturing through the press and not to many groups on City Hall steps trying to pressure everybody," he explained. "This was done in a thoughtful way by the City Council and the administration and shows that democracy works."
Mr. Bloomberg, however, was more loquacious when it came to heaping praise on Ms. Quinn, who remains the front-runner to succeed him as mayor, mentioning her name at least half a dozen times during the press event.
"I think Speaker Quinn deserves an enormous of credit. She represents a lot of different City Council people with different views as to what's right, and it's not an easy job to pull all them together and do what is right for this city and make sure that everybody's interests were at least considered, even if they didn't get everything they wanted. And so we all feel a great debt of gratitude."
While Mr. Bloomberg has thus far refused to publicly endorse a candidate, he is strongly suspected to favor Ms. Quinn.