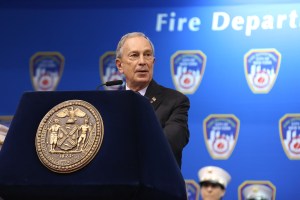 Mayor Michael Bloomberg blasted a plan by the federal Justice Department to install a monitor over the NYPD on Thursday, arguing it would compromise the city's crime fighting and put lives at risk.
"We think that a monitor would be even more disruptive than an IG," the mayor said during an unrelated press conference in Long Island City, Queens, referring to a plan by the City Council to create an Inspector General over the department.
Reports late yesterday revealed that Attorney General Eric Holder supports the installation of a federal monitor over the city's police department in the wake of a lawsuit challenging the city's controversial stop-and-frisk program, whose targets are overwhelmingly black and Latino young men.
"It's just a terrible idea and it's not needed," said the mayor, who argued that, when a monitor were forced on Philadelphia, crime spiked.
"When you have an organization where it's life and death, you have to have clear responsibility. There are chains of command with no ambiguity whatsoever," he said, arguing that a monitor or an IG would disrupt that command, potentially leading to "catastrophic consequences."
One reporter pointed to the Justice Department's late-night brief, which disputed the mayor's argument. But Mr. Bloomberg quickly tried to shoot it down.
"I don't know what experience they have. We have done the streets of New York City. We have an enormous amount of experience," he said. "It's pretty hard to argue that we don't know what we're doing."
He also defended the NYPD as "phenomenally well-managed" and said he was "100 percent confident" the city was complying with the law.
"The NYPD has brought crime down in a ways that nobody—nobody—thought was possible," he said, pointing to the record-low murder rate. "The NYPD has just done a spectacular job and it just makes no sense whatsoever, when lives are on the line, to try to change the rules and hamper the police department from doing their job."