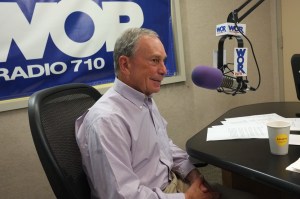 Mayor Michael Bloomberg–who previously suggested so-so students skip college to become plumbers–dished out some more advice to young people Friday morning during his weekly radio show.
Mr. Bloomberg, whose own syntax has sometimes been the butt of jokes, warned kids to pay attention to their grammar lessons or risk losing opportunities later in life.
"Kids have to learn to speak grammar," said the mayor, in response to a caller who suggested kids weren't being taught the subject in schools.
"If you don't speak good grammar–English with good grammar–you're not gonna get the kind of jobs that you want," said the mayor. "You can make an argument that it shouldn't be the case, it's not fair, whatever, [but] people judge each other by how well-spoken they are. And if there's a lot of jargon, and if you can't–double negatives and things like that–they hurt your career prospects."
That's one of the reasons, he argued, it's so important to have good schools. "It is an English-speaking country and, like in My Fair Lady, we do judge each other based on how well we speak."
Host John Gambling said he hoped that message was getting through to young people.
"People think it's cute to jive. And it may be for entertainment, but you just still have to have a command of the English language," concluded Mr. Bloomberg, who admitted he was never good at the subject at school.
"I could never figure out a dangling participle," he joked.