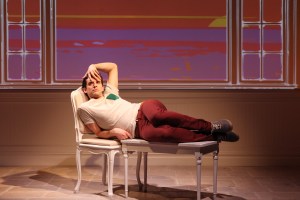 Charles Foster Kane had his Xanadu, stocked with treasures from a lifetime of cultural marauding, and Barbra Streisand has the basement of her Malibu compound, a subterranean shopping mall complete with a brick-paved "Main Street," lined with park benches and stores where she can "shop" to her heart's content, purring over her possessions. She documented this indulgence in an elaborate 2010 coffee-table book called My Passion for Design, which was in short order adapted (in a manner of speaking) for the stage by Jonathan Tolins, who apparently came down with an acute case of giggles on first reading and allowed that to spread into a full-blown gay fantasia. Buyer & Cellar, a supremely silly yet surprisingly poignant one-man show, has just shifted storage space from the Rattlestick Theater, where it opened last April to hosannas and season-end honors, to the Barrow Street Theatre, where it officially reopens on June 24 for an extended stay of 10 weeks (at least), directed by Stephen Brackett.
Its primary fun rests in the extraordinarily rangy solo performance of Michael Urie, who plays (for the most part) Alex Moore, an out-of-work actor freshly fired from Disneyland's Toontown. Ms. Streisand anoints him keeper of her flame—and her basement mall, which includes an antiques store, a vintage dress shoppe (showcasing her movie costumes), a dollhouse and a candy store. A glorified museum guard, he's on duty for whenever she decides to drop by and luxuriate in her bounty.
In addition to Alex, Mr. Urie plays, with dime-spinning precision, Ms. Streisand, Mr. S. (James Brolin), a house manager named Sharon and, by phone, Alex's resentful boyfriend, Barry. It's the kind of acting that doesn't go unnoticed: last week, Mr. Urie collected The Clarence Derwent Award from Actors' Equity for most promising newcomer. The week before that, it was the Drama Desk Award for best solo performance. This week it's the Broadway Beacon Award for his contributions to the New York theater scene this season.
"John has really written a pretty ingenious script," Mr. Urie told The Observer. "I find the situations that the characters end up in are the funniest part of the play—like when Barbra enters the basement and begins haggling over the cost of a doll she already owns. It's just a brilliant conceit."
The role fits Mr. Urie so snugly that it's hard to believe it wasn't written for him. "As John says, it was tailored to me," he said. The role was originally intended for Jesse Tyler Ferguson, who signed on for two roles in this summer's Shakespeare in the Park production of The Comedy of Errors. When Mr. Tolins learned of this, back in January, he was working with Mr. Urie on the CBS show Partners, which was coming to an end, and was reminded that they had compatible senses of humor.
They'd met socially five years earlier, and Mr. Urie impressed the playwright with the news that he was not only familiar with his plays but had actually worked on scenes from Twilight of the Golds in high school speech tournaments, prompting Mr. Tolins to invite him to participate in a reading of one of his plays. "In the first few minutes," the writer recalled, "I saw this as a guy who totally knows how to do my stuff, how to make it sound natural and land right."
In Buyer & Cellar, he's especially impressed with how Mr. Urie handles two characters who are talking to one another—characters coming from very different places. "Michael is able to be fully invested emotionally in both and flip back and forth between them without it looking like some kind of trick. Whatever we threw at him, he could take and make better."
Born in Houston 32 years ago and brought up in Plano, Texas, Mr. Urie was heavily involved in forensics and speech and debate in high school, an experience that fed into his 2013 documentary Thank You for Judging. But his zeal for acting started even earlier, when, as a young child, he was forced to entertain himself. "I have an older sister, but she's seven years older, and we didn't know each other until we were adults," he said. "Mostly, I grew up in front of the television set, watching movies and pretending."
After Collin County Community College, he was accepted at Juilliard, from which he graduated in 2003. Midway through the journey of the journeyman actor—Off Off Broadway, fringe festivals, commercials, regionals—he took charge of his career and made it happen. One day, while illegally downloading the casting breakdowns, he spotted a little role in a pilot that was shooting in New York. Since he was committed to a show at the HERE Arts Center at the time and couldn't consider L.A. jobs, he decided to go for it. (It was also being cast by a casting director who had once complimented his work.)
"I begged my agents and manager to get me an audition, but they were, like, 'Naw, I don't think so. You don't do guest-star spots. You only do series-regular parts in a pilot.' I said, 'Are you crazy? Just get me the appointment. I can get this job.'"
The role up for grabs turned out to be the one Mr. Urie is most associated with: Marc St. James, personal assistant to Mode magazine's difficult diva exec, Wilhelmina Slater (Vanessa Williams), in ABC's dramedy series Ugly Betty. The running gag on the series was to have been that La Slater was so hard to work with that she had a new assistant every week—but, instead of being fired at the end of the pilot, Mr. Urie was hired as a series regular—a gift that he credits to Ms. Williams's generosity.
"She kept giving me tips, like 'Stand closer to me—you'll be in the shot' or 'You take this line—I take the next one.' She noticed I would mimic her movements because I played a sycophant who was obsessed by her—and she said, 'Oh, what else can I do that you could mimic?' She's incredibly smart, and she knows about these things.
"Wilhelmina mistreated everyone, and I would help her. She, of course, mistreated me, but I sorta loved it. I just loved everything about her, and I was toadying everything. They referred to us as The Wicked Witch and The Flying Monkey."
Judith Light, one of his Ugly Betty co-stars, was not surprised that Mr. Urie lasted the full four years of the series: "He created a viable character with such depth—not just comically, but real depth. You can see it in that show where he comes out to his mother. He brought such a range and color of emotion to his character that everybody wanted him to stay on."
When the series switched coasts its third season, Mr. Urie got down to some serious stage work with The Temperamentals, Jon Marans's 2009 docudrama on the creation of the Mattachine Society, the breakthrough gay-rights organization, during the Eisenhower era. He played Austrian émigré and MGM costume designer Rudi Gernreich with an authentic accent he got from dialect coach Diego Daniel Pardo—and the Arnold Schwarzenegger flick True Lies. "Arnold plays a guy named Harry, but he pronounces it Herry, so I took that when I was talking to my lover, Herry Hay. Tovah Feldshuh came to see the show and told me, 'You know what you're doing right? Herry.' She comes from Austrian Jews."
Others thought he did it right, too. He won a Lortel Award, a Theater World Award and, with the rest of the cast, a best ensemble award from The Drama Desk.
You would think, with all these awards piling up, that he would stick to stage acting, but he's too restless for that. In the few weeks it took for Buyer & Cellar to switch locations, he managed to get cast in a movie—Such Good People, "a cute gay caper movie in which Randy Harrison and I play a couple who wind up in a heist."
Another movie—Petunia, which Mr. Urie shot two years ago while doing Angels in America—sprouts in multiplexes June 28. He plays a man who lives in the same building as Charlie Petunia (Tobias Segal), the youngest member of the Petunia family, and develops a relationship with him.
After filming Petunia, Mr. Urie made his movie-directing debut with the recently released He's Way More Famous Than You, which his partner, Ryan Spahn, wrote with Halley Feiffer. All three of them play themselves in what Mr. Urie calls a "meta-comedy."
For the moment, though, he's the perfect custodian for Barbra Streisand's basement. "It was very important to us, while working on it, that we never set out to make fun of Barbra," said writer Jonathan Tolins. "We wanted Alex to fall in love with her. Michael would always be very protective of all the characters in the show, and he inspired Stephen and me to make sure we were being as generous to them as we could be."
editorial@observer.com