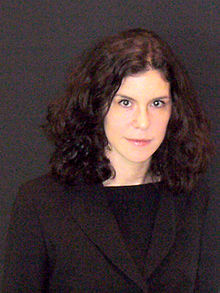 Megan McArdle is leaving Newsweek for Bloomberg View, where she will cover the economy, business, politics and national affairs as a columnist.
"Megan is an extraordinary writer and thinker," David Shipley, executive editor of Bloomberg View, said in an announcement today. "Few people have done a better job chronicling the economic, corporate and technological disruptions of the last decade. She's going to make a lot of readers—those who have followed her for years and those who will discover her at Bloomberg—smarter and happier. We're thrilled that she's joining the team."
In 2012, Ms. McArdle became a senior editor at Newsweek, moving there from The Atlantic, where she wrote about economics, business and Washington politics as a senior editor. Before that, Ms. McArdle was a writer at The Economist.
The news of Ms. McArdle's departure from Newsweek comes the same day as the news that Tony Dokoupil is leaving his position as senior writer at Newsweek for NBCNews.com. Earlier this month, Newsweek announced that CEO Baba Shetty was stepping down after just nine months in the position, news that came on the heels of the announcement that parent company IAC was exploring whether to sell off the magazine, which went digital only at the start of the year.