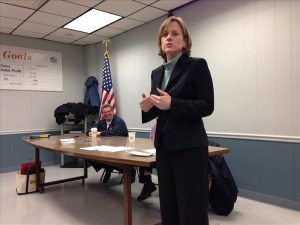 The Queens Democratic Party is famously unified, as their endorsement tends to come along with most of the county's elected officials. For former Councilwoman Melinda Katz's borough president campaign, which was backed by the Democratic organization last month, this has proven to be the case yet again–with a slew of new endorsements announced today.
Current Queens Borough President Helen Marshall and Congresswoman Nydia Velázquez declared their support for the Katz campaign, along with former borough president candidate and State Senator  José Peralta, State Senator James Sanders, Assemblywoman Vivian Cook and  Assemblyman Jeffrion Aubrey.
Mr. Sanders and Ms. Cook, notably, are officials hailing from heavily-African American southeastern Queens neighborhoods, the political base of Councilman Leroy Comrie, one of Ms. Katz's rivals in the borough president's race.
"When the many immigrants of Queens first arrive in our borough they are at their most vulnerable," said Mr. Peralta in a statement, vouching for Ms. Katz's credentials in the Latino community. "That is why protections for the immigrant labor force and legislation like the DREAM Act are so vital to our borough. Melinda has been an advocate and ally on these issues, as well as a friend. I am happy to endorse her bid for borough president."
(It should be noted that Mr. Peralta's endorsement is not a surprise; he had signaled his intention to endorse her when he dropped out of the race.)
For her part, Ms. Katz said she "could not be more humbled to have earned the support of such a broad coalition of Queens elected officials."
Also in the race are Councilman Peter Vallone Jr., whose ample campaign account makes him a top-tier contender, and State Senator Tony Avella, whose fund-raising has lagged.