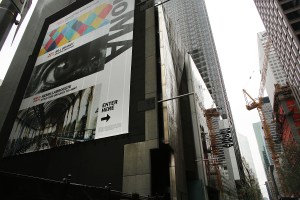 We've had an early look at the Museum of Modern Art's schedule for the rest of the year, and a good amount of 2014, and it's all fairly impressive.
The annual "New Photography" show, always closely watched for market and horse-race reasons, will include Adam Broomberg and Oliver Chanarin, Brendan Fowler, Annette Kelm, Lisa Oppenheim, Anna Ostoya, Josephine Pryde and Eileen Quinlan.
The full list of programming follows.
**New Photography 2013: Adam Broomberg and Oliver Chanarin, Brendan Fowler, Annette Kelm, Lisa Oppenheim, Anna Ostoya, Josephine Pryde, Eileen Quinlan (September 14, 2013–January 06, 2014)

** Dante Ferretti: Design and Construction for Cinema (September 28, 2013–February 9, 2014)

** The Berlin School: Films from the Berliner Schule (November 20, 2013–December 6, 2013)

** Isaac Julien: Ten Thousand Waves (November 25, 2013–February 17, 2014)

** Robert Heinecken (March 15, 2014–June 22, 2014)

** Christopher Williams: The Production Line of Happiness (August 2, 2014–November 2, 2014)