Morning News Digest: June 24, 2013
By Matthew Arco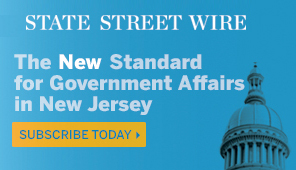 Winners and Losers
Jersey native James Gandolfini died too young this week.
As we celebrate his wonderful accomplishments, please also take the time to take care of yourselves and to enjoy those precious mortal moments, in the midst of madness, with those counting on you to keep alive a little longer. (PolitickerNJ)
http://www.politickernj.com/66694/winners-and-losers
Governor files nominations, appointments
TRENTON – Gov. Chris Christie filed nominations and direct appointments with the State Senate and the Secretary of State's Office. The Governor's nominations are subject to the advice and consent of the State Senate. (PolitickerNJ)
http://www.politickernj.com/66707/governor-files-nominations-appointments
Both Christie and Menendez to speak at Fulop's swearing-in ceremony
The official inauguration of Mayor Steven M. Fulop, the 49th mayor of Jersey City, will be held at 6 p.m. on Monday, July 1 outside of City Hall, 280 Grove St., in a public celebration.
Mayor-Elect Fulop chose an inauguration format similar to that of Mayor Thomas Smith in the 1970s in the hope of bringing the people back to City Hall to be part of the ceremony and part of the civic process. (Pizarro/PolitickerNJ)
http://www.politickernj.com/66688/both-christie-and-menendez-speak-fulops-swearing-ceremony
Booker to bring education ideas to N.J. Senate race
LAWRENCEVILLE — Cory Booker had just 53 days to convince New Jersey Democrats to nominate him to be the state's next U.S. Senator, but the Newark mayor spent Friday afternoon speaking to hundreds boys not yet old enough to vote.
Booker, who spoke at the American Legion Boys State final assembly at Rider University, seldom skips the chance to speak to high school and college-age audiences. He's devoted considerable energy and capital as mayor trying to create opportunities for urban youths by improving the quality of their education, and brought city schools a $100 million matching grant from Facebook founder Mark Zuckerberg, which was announced on Oprah Winfrey's couch in 2010. (Delli Santi/AP)
http://www.northjersey.com/news/Booker_brings_education_ideas_to_NJ_Senate_race.html
Democrats challenge Christie on issues that could hurt him in '16
There's a price for Gov. Chris Christie to pay for having both a landslide lead in his re-election bid and for harboring 2016 presidential aspirations: He's being forced to navigate stepped-up challenges from Democrats in the Legislature hoping to put the Republican governor in tight spots on hot-button issues.
While Christie is so far unscathed inside New Jersey, maintaining sky-high job approval ratings, the fights could bloody Christie on the national stage, political observers said. (Jordan/APP)
http://www.app.com/article/20130623/NJNEWS/306230059/Democrats-challenge-Christie-issues-could-hurt-him-16
Secret files reveal how pay-to-play works in N.J.
The engineering firm Birdsall Services Group was built of New Jersey steel, the kind forged in a fire of wheeling and dealing and political influence that made the company a titan in the brawl for millions of dollars worth of public contracts.
Now it's all melting down. (Baxter/Star-Ledger)
http://www.nj.com/politics/index.ssf/2013/06/secret_files_reveal_how_pay-to-play_works_in_nj.html#/0
Controversial hospital tax legislation gaining momentum
Republican lawmakers don't like it. Democrats only grudgingly support it.
But with the backing of political heavyweights such as Newark Mayor Cory Booker and South Jersey Democratic power broker George Norcross, a controversial bill that would allow four counties and five cities to impose a five-year tax on their local hospitals may survive an aggressive challenge and pass the Legislature this week. (Livio & Renshaw/Star-Ledger)
http://www.nj.com/politics/index.ssf/2013/06/controversial_hospital_tax_legislation_gaining_momentum.html#incart_river
The Auditor: Booker loses his radio show
As Newark Mayor Cory Booker hits full stride in his run for U.S. Senate, one routine of his administration has already fallen by the wayside.
WBGO, Newark's famous jazz radio station, has told the mayor his monthly call-in show has been canceled. (Star-Ledger)
http://blog.nj.com/njv_auditor/2013/06/the_auditor_booker_loses_his_r.html#incart_river
Holt, Booker and Pallone rally in Montclair for marriage equality
As same-sex marriage faces a crucial test this week in Washington, supporters of marriage equality in New Jersey got a boost of political firepower today from three Democratic candidates running in a special election for U.S. Senate.
Newark Mayor Cory Booker, Rep. Rush Holt (D-12th Dist.) and Rep. Frank Pallone (D-6th Dist.) joined hundreds of marchers at Montclair's Erie Park for the fourth annual "Equality Walk" — a 2.5-mile march in support of same-sex marriage, safe schools and equal rights in the workplace sponsored by the advocacy group Garden State Equality. (Giambusso & Hagen/Star-Ledger)
http://www.nj.com/essex/index.ssf/2013/06/holt_booker_and_pallone_rally_in_montclair_for_marriage_equality.html#/0
Christie cheers huge volunteer effort after Sandy
An army of more than 100,000 volunteer workers from around the country rushed to New Jersey after Hurricane Sandy, manning shelters and food banks, fixing power outages and lifting spirits, Gov. Chris Christie said today in a speech in Washington, D.C., thanking them for their help.
Appearing as the keynote speaker at a conference on volunteering and service hosted by the nonprofit group Points of Light, Christie said 473 volunteer organizations have helped New Jersey recover from Sandy, the worst natural disaster in state history. (Rizzo/Star-Ledger)
http://www.nj.com/politics/index.ssf/2013/06/christie_gives_thanks_for_huge_volunteer_effort_after_sandy.html#incart_river
N.J. Democrats' budget much like Christie's
TRENTON – There was a time in the not-too-distant past when getting a state budget through the New Jersey Legislature and signed by the governor had all the drama of Wagner's Ring cycle operas.
And seemed to take as long. (Mondics/Inquirer)
http://www.philly.com/philly/news/new_jersey/20130623_N_J__Democrats__budget_much_like_Christie_s.html
Menendez a key player in immigration bill
WASHINGTON – In the delicate coalition that has brought an immigration overhaul to the brink of Senate approval, New Jersey Sen. Bob Menendez has played a central role.
As one of the bipartisan "Gang of Eight" that crafted the bill, Menendez has been a voice for millions of Latinos. He has drawn firm lines on progressives' top priorities while also urging his allies to accept the compromises needed to build support across regions and the political spectrum. (Tamari/Inquirier)
http://www.philly.com/philly/news/new_jersey/20130623_Menendez_a_key_player_in_immigration_bill.html
Open-Space Constitutional Amendment Could Be on November Ballot
With strong bipartisan support, the Senate yesterday overwhelmingly approved a measure that would ask voters to divert more than $200 million a year from the state's sales tax to fund open-space preservation.
If approved by the Assembly by a similar margin — a question that remains highly uncertain — the legislation (SCR-138) would be on the ballot this November seeking voter approval. (Johnson/NJSpotlight)
http://www.njspotlight.com/stories/13/06/20/open-space-constitutional-amendment-could-be-on-november-ballot/
Medical Marijuana for Kids Could Pit Parents Against Pediatricians
According to current state law, any doctor who wants to prescribe medical marijuana to a child must have a pediatrician and a psychiatrist vet his decision. That's a particularly daunting challenge in New Jersey, where only two pediatricians have registered with the state's nascent medical marijuana program.
That challenge could be eased significantly by a bill now advancing in the Legislature: (S-2842/A-4241 would require that children be treated the same as adults when being considered for medical marijuana. (Kitchenman/NJSpotlight)
http://www.njspotlight.com/stories/13/06/20/medical-marijuana-for-kids-could-pit-parents-against-pediatricians/
Christie thanks those who helped after Sandy at convention in Washington D.C.
Governor Christie used a national volunteerism conference in Washington on Friday to thank those who swarmed into New Jersey to help after Superstorm Sandy, and to emphasize that elected and community leaders need to keep the focus on the long-term recovery needs that remain.
Speaking at a convention organized by the Points of Light Foundation, Christie said more than 30,000 families in the state still have not been able to get back into their homes, and work will not likely be completed for 18 to 24 months. (Jackson/The Record)
http://www.northjersey.com/news/Christie_thanks_those_who_helped_after_Sandy_at_convention_in_Washington_DC.html
Christie praises Sandy volunteers during D.C. speech
Governor Christie praised the work volunteers did after superstorm Sandy, including a rescue squad leader in Moonachie, as he spoke at a conference in Washington today organized by the world's largest organization dedicated to volunteer service.
Christie was interrupted several times for applause at the Points of Light Foundation conference, including when he said that the response from volunteers and victims was non partisan. (Jackson/The Record)
http://www.northjersey.com/news/recordpolitics/Christie_to_speak_at_conference_in_Washington_today.html
Opinion
Stile: Clinton fundraiser pushes for her to run in 2016
Caren Z. Turner, the media and government affairs consultant who shuttles between Tenafly and Washington, D.C., was a member of an informal New Jersey network of fundraisers for Hillary Clinton's 2008 presidential campaign.
But as Clinton ponders a second run for the White House in 2016, Turner has taken a formal role with a group trying to persuade Clinton to make the leap. (Stile/The Record)
http://www.northjersey.com/news/opinions/212652611_Stile__Clinton_fundraiser_pushes_for_her_to_run_in_2016_for_Clinton_in__08_dives_into_2016_campaign.html
Stile: Assembly Speaker Sheila Oliver says it's her time to run for U.S. Senate seat
Most political professionals in New Jersey are struggling to understand why Assembly Speaker Sheila Oliver, who is near the top of New Jersey's pyramid of power, has launched a bottom-of-the-pack bid for the U.S. Senate.
For the 60-year-old East Orange Democrat, who has long harbored ambitions to make the leap to Congress, the reason is simple. (Stile/The Record)
http://www.northjersey.com/news/Stile_Assembly_Speaker_Sheila_Oliver_says_its_her_time_to_run_for_US_Senate_seat.html
'Securing the border' doesn't get my vote
The most important vote Jeff Chiesa will cast during his brief time in the United States Senate will almost certainly be on that immigration bill now up for consideration.
A lot of people are wondering which side he'll support. Will he go with the bipartisan Gang of Eight and support what they call "comprehensive immigration reform?" Or will he side with conservatives and vote against a bill they call "amnesty?" (Mulshine/Star-Ledger)
http://blog.nj.com/njv_paul_mulshine/2013/06/securing_the_border_doesnt_get.html#incart_river
N.J.'s OPRA, open meetings laws are out-of-date: Opinion
In New Jersey, we're fortunate to have two fantastic tools to help maintain open government at all levels — the Open Public Records Act and the Byron M. Baer Open Public Meetings Act. When enacted, these two laws were revolutionary concepts that redefined elected officials' relationship to the people who elected them to office in the first place. (Weinberg/Star-Ledger)
http://blog.nj.com/njv_guest_blog/2013/06/nj_opra_open_meetings_laws_are.html#incart_river