Morning News Digest: June 25, 2013
By Matthew Arco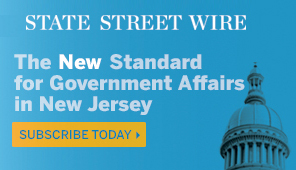 Sweeney bill would eliminate Rutgers board of trustees
TRENTON – The state's top Senate lawmaker says "it's time" to eliminate Rutgers University's Board of Trustees and give power to the college's other governing body.
Senate President Steve Sweeney told reporters "the last round of errors" at Rutgers University is proof that two governing boards is a cumbersome model. It's why he recently introduced legislation that would dissolve the trustees and give authority to the university's Board of Governors. (Arco/PolitickerNJ)
http://www.politickernj.com/66724/sweeney-bill-would-eliminate-rutgers-board-trustees
Bill to combine elections on one date passes
The Assembly passed bill A4237, which would change the date of the 2013 general election from Nov. 5 to Oct. 16, which is when the U.S. Senate special election is scheduled to take place.
The bill makes the point that changing the election date is allowed by the state Constitution. (Hassan/PolitickerNJ)
http://www.politickernj.com/66744/bill-combine-elections-one-date-passes
Buono names honorary chairs
Democratic gubernatorial candidate Barbara Buono today announced several honorary chairs and co-chairs for her campaign. (Isherwood/PolitickerNJ)
http://www.politickernj.com/66731/buono-names-honorary-chairs
Christie, crowd, rejoice as he collects the endorsement of another Dem
POINT PLEASANT – They caught hell here, these survivors of Hurricane Sandy.
You stand in a crowd and talk to them and you hear stories about gutted first floors and motel rooms, and people are still shell-shocked talking about their expectations for the next storm. (Pizarro/PolitickerNJ)
http://www.politickernj.com/66722/christie-crowd-rejoice-he-collects-endorsement-another-dem
Gun groups say voting irregularity makes gun control measures null and void
A coalition of gun groups today charged the Democratic controlled Assembly of vote-rigging and said a host of gun control measures, some of which have already been approved by the legislature, are invalid due to improper procedure.
In a letter to Assembly Speaker Sheila Oliver from law firm Greenbaum, Rowe, Smith and Davis, the groups allege that by halting a June 6 committee roll call vote on A4182 before the vote was complete, it rendered that bill and every bill passed through the committee after the halted vote ineligible for consideration by the Assembly. (Isherwood/PolitickerNJ)
http://www.politickernj.com/66720/gun-groups-say-voting-irregularity-makes-gun-control-measures-null-and-void
Democratic mayor from Point Pleasant backs Christie's re-election
POINT PLEASANT – Point Pleasant Borough Mayor William G. Schroeder this afternoon endorsed the re-election of Gov. Chris Christie.
The endorsement marks the thirteenth Democrat mayor and thirty-second Democratic elected official to endorse Governor Christie. (Pizarro/PolitickerNJ)
http://www.politickernj.com/66719/democratic-mayor-point-pleasant-backs-christies-re-election
Christie colleague's wife OKed for regulatory post
TRENTON, N.J. (AP) — Gov. Chris Christie's choice for a spot on the state Board of Public Utilities has cleared the Senate Judiciary Committee.
His nominee for the $125,000-a-year post is Dianne Solomon of Haddonfield. She's the wife of his first board president, Lee Solomon, who worked with Christie when he was U.S. attorney. He's now a Superior Court judge. (AP)
http://www.northjersey.com/news/state/Christie_colleagues_wife_OKed_for_regulatory_post.html
Buono's daughter criticizes Christie on gay marriage
The daughter of Democratic gubernatorial candidate Barbara Buono referred to herself as a "gay American" and criticized Governor Christie for failing to support gay marriage in an email released Monday by the Buono campaign.
Tessa Bitterman, 22, who lives in San Francisco and is about to enter law school, urged her mother's supporters to donate to her campaign, and referred to Christie as "a giant roadblock to New Jersey achieving equality for all." She also alleged that the governor "misrepresents himself as a moderate." (Koloff/The Record)
http://www.northjersey.com/news/politics/Buonos_daughter_attacks_Christie_on_gay_marriage.html
New Jersey Assembly Passes Bill To Combine Elections
The Democratic-controlled New Jersey state Assembly on Monday passed legislation to move all state elections this year to Oct. 16, the day Gov. Chris Christie (R) picked for a special U.S. Senate election.
The move is another step toward a showdown with the governor. Democrats have objected to Christie's decision to hold the special election to fill the U.S. Senate seat left vacant by the death of Sen. Frank Lautenberg (D) just 20 days before the general election on Nov. 5. The special election and its Aug. 13 primary will each cost the state at least $12 million. (Celock/Huffington Post)
http://www.huffingtonpost.com/2013/06/24/new-jersey-elections_n_3492577.html?utm_hp_ref=tw
Christie's $33 billion budget sails through Legislature
A surprisingly tame budget season ended today as New Jersey lawmakers approved Gov. Chris Christie's $33 billion spending plan with only a few minor changes.
Lawmakers from both parties blessed Christie's budget — which is 4 percent, or $1.3 billion, larger than what he signed last year — after removing a $2 million pilot program for school vouchers and securing slightly more funding for education, nursing homes and programs for disabled residents. (Rizzo/Star-Ledger)
http://www.nj.com/politics/index.ssf/2013/06/christies_329_billion_budget_sails_through_legislature.html#/0
Bill making medical marijuana program more accessible to sick kids wins final passage
As the mothers of two chronically sick children cried tears of relief, the Assembly approved a bill today that would remove some of the legal barriers that have prevented kids from benefiting from New Jersey's medicinal marijuana program.
The 55-13 vote with nine abstentions in the Assembly was the bill's last stop before going to Gov. Chris Christie, who has reluctantly implemented the medical marijuana law and has said he is "not inclined to allow" children to participate in the program, even though state law allows it. (Livio/Star-Ledger)
http://www.nj.com/politics/index.ssf/2013/06/bill_making_medical_marijuana_program_more_accessible_to_sick_kids_wins_final_passage.html#incart_river
Bill overhauling state child porn laws arrives on Gov. Christie's desk
A comprehensive bill to overhaul the state's child pornography laws, making them near or equal in strength to much tougher federal statutes, arrived on Gov. Chris Christie's desk today after both houses of the Legislature overwhelmingly approved it.
The Assembly passed the measure, 75-0, while the Senate backed it, 40-0. (Grant/Star-Ledger)
http://www.nj.com/news/index.ssf/2013/06/bill_overhauling_state_child-porn_laws_arrives_on_gov_christies_desk.html#incart_river
From the Back Room
Caruso to leave Assembly majority
Assembly Majority Executive Director Bill Caruso is leaving his post next month, according to a source familiar with his decision.
According to the source, Caruso began announcing his departure to caucus members today. (Isherwood/PolitickerNJ)
http://www.politickernj.com/back_room/caruso-leave-assembly
Opinion
Stile: Christie bravado cools as reality of $33 billion budget plan sets in
It was packaged as the Chris Christie Priority – an income-tax cut for most New Jersey homeowners.
In his budget address and throughout the spring, Governor Christie vowed that he was going to do whatever it took to get it passed, short of shutting down the government. He thumped Democrats in town halls and radio shows, vowing to pummel those who dared to defy him. (Stile/The Record)
http://www.northjersey.com/news/Christie_bravado_cools_as_reality_of_33_billion_budget_plan_sets_in.html
Birdsall cash-for-contracts scheme proves pay-to-play lives on: Editorial
Of all the lessons of the Birdsall money-laundering case, this is the most depressing: It still pays to grease palms in New Jersey.
New Jersey's pay-to-play law is one of the nation's strongest. Didn't matter: Birdsall Services Group knew that funneling campaign contributions to politicians was a good investment. Give a thousand, get a million. (Star-Ledger)
http://blog.nj.com/njv_editorial_page/2013/06/birdsall_cash-for-contracts_sc.html#incart_river