Morning News Digest: June 28, 2013
By Matt Arco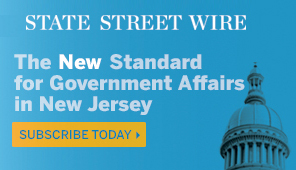 Senate leaves without taking up Rutgers bill
TRENTON – Senate lawmakers are leaving for the night following hours of recess.
The upper chamber is calling it quits tonight after idling behind closed doors following an afternoon voting session. The Senate took a recess earlier today before voting on a bill that proposes dismantling Rutgers University's Board of Trustees. (Arco/PolitickerNJ)
http://www.politickernj.com/66957/senate-adjourns-without-taking-rutgers-bill
Currie welcomes Myers and Davis to key roles with NJ Democratic State Committee
New Jersey State Democratic Chairman John Currie today announced his selection of Justin Myers as Executive Director of the New Jersey Democratic State Committee. Myers will be joined at the Democratic State Committee by Jennifer Davis, who will serve as Deputy Executive Director. (Pizarro/PolitickerNJ)
http://www.politickernj.com/66949/currie-welcomes-myers-and-davis-key-roles-nj-democratic-state-committee
Billboard posted opposing developmental disabilities centers' closures
TRENTON – A billboard has been put up in Trenton opposing the closure of two state-run developmental disabilities centers.
The billboard can be seen when traveling east-bound on I-195 between exits 3 and 5. (Hassan/PolitickerNJ)
http://www.politickernj.com/66943/billboard-posted-opposing-developmental-disabilities-centers-closures
Holley wants BOE to revoke new insurance contract
Roselle Mayor Jamel Holley slammed the Roselle Board of Education's hiring of a new insurance provider, citing the board's efforts to reinflate battered former Mayor Garrett Smith.
"Over the past two years Roselle has been successfully moving forward from the failed leadership of Garrett Smith," said Holley in a statement. "The last thing our community needs is Smith, or a company with which he is associated, working for or representing the Roselle Board of Education, particularly in the matter of insurance." (Pizarro/PolitickerNJ)
http://www.politickernj.com/66930/holley-wants-boe-revoke-new-insurance-contract
Sweeney bill to eliminate Rutgers board of trustees makes Senate voting agenda
TRENTON – A bill sponsored by the Senate's top lawmaker that would dismantle Rutgers University's Board of Trustees made it on the Senate agenda Thursday afternoon. (Arco/PolitickerNJ)
http://www.politickernj.com/66922/sweeney-bill-eliminate-rutgers-board-trustees-makes-senate-voting-agenda
Pallone finds no takers for "People's Pledge"
To date, U.S. Rep. Frank Pallone has found no takers in his quest to remove outside money from the upcoming Democratic U.S. Sen. primary.
Last week, Pallone issued a call for his opponents to sign the "People's Pledge," which would restrict outside money from entering the race by forcing candidates to make a charitable dontaion equal to half the cost of the outside support. Today, Pallone renewed the call for the pledge he says helped keep the recent Massachusetts special Senate election free from outside influence. (Isherwood/PolitickerNJ)
http://www.politickernj.com/66921/pallone-finds-no-takers-peoples-pledge
Buoyed by Supreme Court ruling, advocates move to make N.J. next front in gay marriage battle
A day after the U.S. Supreme Court shifted the national landscape on gay rights by declaring same-sex couples cannot be denied federal benefits, gay marriage advocates in New Jersey kicked off a campaign to legalize same-sex marriages here despite staunch opposition from Governor Christie.
The renewed effort, which may last well into the fall, involves enlisting a cadre of Trenton lobbyists, including a well-connected veteran Republican power player who came out as a lesbian publicly for the first time Thursday. National gay-rights groups will also contribute, having already identified New Jersey as a prime target to become the latest same-sex marriage state. (Reitmeyer, Linhorst & Stile/The Record)
http://www.northjersey.com/news/Buoyed_by_Supreme_Court_ruling_advocates_move_to_make_NJ_next_front_in_gay_marriage_battle.html
Aid bill to towns that lose HQs heads to Christie
A bill that will help towns offset the property-tax loss when a large company relocates won final legislative approval by the Senate Thursday and will now go to Governor Chris Christie's desk.
The Corporate Disinvestment Property Tax Relief Act, A-3807, was approved 23-15 by the Senate, after passing the state Assembly on Monday. (Moss/The Record)
http://www.northjersey.com/news/213349201_Aid_bill_to_towns_that_lose_HQs_head_to_Christie.html
Gun background check bill, hailed as 'national model,' goes to Christie's desk
The New Jersey Senate gave final approval Thursday to a bill overhauling the state's background check system for gun buyers and imposing new requirements on firearm sales.
It is heading to Governor Christie for approval, although he has not indicated whether he plans to sign it. (Linhorst/The Record)
http://www.northjersey.com/news/Gun_background_check_bill_hailed_as_national_model_goes_to_Christies_desk.html
Immigration reform bittersweet to NJ immigrants and advocates
The passage of sweeping immigration legislation by the Senate on Thursday was called bittersweet by immigrant advocates in New Jersey who criticized the bill for its massive spending on border security.
Opponents of the bill, who have called it a form of amnesty, also objected to the billions allocated for security along the U.S. Mexico border and were hopeful that the GOP controlled House would kill the legislation. (Alvarado & Jackson/The Record)
http://www.northjersey.com/news/Immigration_reform_bittersweet_to_NJ_immigrants_and_advocates.html
Rutgers trustees to fight Sweeney plan to abolish board
The Rutgers University Board of Trustees will file for a permanent injunction to block the application of legislation proposed by State Senate President Steve Sweeney (D., Gloucester) that would abolish the board, the trustees announced Wednesday.
The trustees spent three hours in closed session at an emergency meeting that began shortly after 7 p.m. Wednesday, followed by an open session where they adopted the resolution announcing their intent to take the issue to court should the bill pass. (Lai/Inquirer)
http://www.philly.com/philly/education/20130627_Rutgers_trustees_call_emergency_meeting.html
Court's Rulings on Same-Sex Marriage Raise Hopes of Advocates Here
It won't be long before same-sex marriage is legal in New Jersey, gay-rights advocates said in the wake of yesterday's U.S. Supreme Court rulings striking down part of the U.S. Defense of Marriage Act and reinstating same-sex unions in California.
But Gov. Chris Christie made it very clear last night that he is not going to help their cause in any way. (O'Dea/NJSpotlight)
http://www.njspotlight.com/stories/13/06/26/court-s-rulings-on-same-sex-marriage-raise-hopes-of-advocates-here/
Rutgers Restructuring Turns Ugly
Characterizing it as "unconscionable," "unconstitutional," and "illegal," the Rutgers University Board of Trustees roundly denounced a bill that's been fast-tracked by legislative leaders without a committee review. The measure seeks to abolish the board and transfer its authority to the school's Board of Governors.
The legislation was formally introduced Monday by Senate President Steve Sweeney (D-Gloucester), who is being accused of seeking revenge after the board thwarted his proposal to split off Rutgers-Camden and join it with Rowan University. (Nurin/NJSpotlight)
http://www.njspotlight.com/stories/13/06/27/rutgers-restructuring-turns-ugly/
As last-minute changes spark debate, corporate subsidies bill nears final approval
The Legislature tonight moved closer to final approval of a bill that would streamline New Jersey's corporate incentives program, open up subsidies to a wider range of businesses and expand the places in which the program can be used to encourage development.
The sweeping legislation, known as the Economic Opportunity Act, was debated behind closed doors after a slew of wonkish and lengthy amendments showed up at the last minute, tacked on by the Senate budget committee earlier this week. Even those who supported the overall concept were not pleased with the additions. (Hutchins/Star-Ledger)
http://www.nj.com/politics/index.ssf/2013/06/as_last-minute_changes_spark_debate_corporate_subsidies_bill_nears_final_approval.html#incart_river
Christie disagrees with Westfield's decision to put armed police in school
Gov. Chris Christie says he disagrees with Westfield's decision to put an armed police officer in their schools.
Westfield voted on Monday to reinstate the position of school resource officer, which will place a specially trained police officer in the high school full-time at a salary of $100,000. (Wright-Piersanti/Star-Ledger)
http://www.nj.com/union/index.ssf/2013/06/christie_disagrees_with_westfields_decision_to_put_armed_police_in_school.html#incart_river
N.J. Senate and Assembly postpone vote on bill to eliminate Rutgers Board of Trustees
The push to pass a controversial bill dissolving the Rutgers board of trustees and turning its responsibilities over to the university's board of governors stalled tonight during the last scheduled session before the Legislature broke for summer recess, though the Assembly Speaker said she was committed to reviving the measure.
Speaker Sheila Oliver said her decision not to put the bill up for a vote was not influenced by the threat of legal action by Rutgers. (Livio & Heyboer/Star-Ledger)
http://www.nj.com/politics/index.ssf/2013/06/state_senate_votes_on_bill_to_eliminate_rutgers_board_of_trustees.html#incart_river
With immigration vote, Chiesa leaves mark on the Senate
It was only the second time U.S. Sen. Jeffrey Chiesa voted on a bill, but by joining all the Democrats and 13 Republicans to pass a sweeping overhaul of the country's immigration laws today, the senator from New Jersey likely cemented his legacy in Congress.
Formerly the state attorney general, Chiesa (R-N.J.) was appointed by Gov. Chris Christie earlier this month to fill the late Frank Lautenberg's seat until a special election in October. (Rizzo/Star-Ledger)
http://www.nj.com/politics/index.ssf/2013/06/with_immigration_vote_chiesa_leaves_mark_on_the_senate.html#/0
N.J. Legislature passes resoultion claiming civil service changes violate state constitution
The state Legislature has passed a resolution aiming to stop the Christie administration's proposed changes to the New Jersey civil service system, saying they violate the state constitution.
The civil service system governs how thousands of public employees in New Jersey are hired, promoted and fired. Currently, employees receive jobs and move up based on examinations. (Johnson/Star-Ledger)
http://www.nj.com/politics/index.ssf/2013/06/nj_legislature_passes_resoultion_claiming_civil_service_changes_violate_state_consitution.html#/0
$10M Lakewood yeshiva grant faces challenge in Assembly
Lawmakers greenlighted more than $715 million in college-campus construction projects, but not before subjecting a few of the plans to a little additional pressure.
In all, Gov. Chris Christie's administration is moving forward with $1.27 billion for 176 higher-education projects around New Jersey. That includes $715.6 million from the $750 million in borrowing voters approved last November, which required approval by the Senate and Assembly. (Symons/APP)
http://www.app.com/article/20130627/NJNEWS1002/306270063/-10M-Lakewood-yeshiva-grant-faces-challenge-Assembly?nclick_check=1
Rutgers fighting trustee board dissolution
As the state Assembly prepared to vote on legislation to study the governance structure at Rutgers, the university's Board of Governors continued to prepare its legal fight.
Responding to bill introduced by state Assembly Deputy Speaker John S. Wisniewski, D-Middlesex, Thursday afternoon that would establish a commission to make recommendations to Gov. Chris Christie and the Legislature, Rutgers' top governing board called a special meeting for 7:30 a.m. today "to discuss the legal implications" of Senate bill S2902 and companion Assembly bill A4315. (Sargeant/APP)
http://www.app.com/article/20130627/NJNEWS1002/306270134/Rutgers-fighting-trustee-board-dissolution
From the Back Room
Kempner sets sights on Hillary 2016
After successfully aiding President Obama's bid for re-election last year, Michael Kempner has set his sights on Hillary Clinton's potential 2016 run for office.
Kempner, the CEO of MWW Public Affairs who served on Obama's national finance committee, hosted a breakfast this morning in New York to tout Ready for Hillary, a PAC dedicated to raising money should the former Secretary of State and 2008 Democratic Presidential candidate decide she's ready to take another shot. (Isherwood/PolitickerNJ)
http://www.politickernj.com/back_room/kempner-sets-sights-hillary-2016
Opinion
Stile: Marriage decision will affect Christie
Governor Christie stood at the base of the Bayonne Bridge on Wednesday and at the center of a traditional election-season setting – union workers cheering his plans for a major road project.
At the same hour, the U.S. Supreme Court dropped the gnarly issue of same-sex marriage onto the campaign trail in New Jersey, creating a new challenge for Christie as he sets his sights on a second term this November – and, possibly, on the Oval Office in 2016. (Stile/The Record)
http://www.northjersey.com/news/opinions/213318371_Marriage_decision_will_affect_Christie.html
Sen. Stephen Sweeney's attempted coup at Rutgers: Editorial
Senate President Stephen Sweeney's bill to dismantle Rutgers' Board of Trustees, if it passes, isn't likely to survive the inevitable court challenge. The 1956 law that gave Rutgers to New Jersey enshrined the trustees' power. It's ironclad, and can't be undone by anything as simple as a bill.
That makes the debate an academic one, which is appropriate. (Star-Ledger)
http://blog.nj.com/njv_editorial_page/2013/06/sen_stephen_sweeneys_attempted.html