Morning News Digest: June 6, 2013
By Matt Arco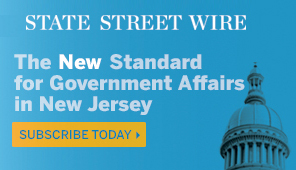 N.J. bids a final farewell to Lautenberg
SECAUCUS JUNCTION – Drums rocked the floor and the sounds of bagpipes reverberated off the walls and massive ceiling of the Secaucus Junction train station that bears the name of the late Sen. Frank Lautenberg Wednesday afternoon.
Lautenberg, the five-term U.S. senator who died earlier this week at age 89, was ushered into the station by the NJ TRANSIT color guard while uniformed personnel played taps in his honor. Lautenberg's casket briefly sat in the station's upper rotunda where officials took part in a moment of silence for the man whose long legacy includes his commitment to public transportation. (Arco/PolitickerNJ)
http://www.politickernj.com/66136/nj-bids-final-farewell-lautenberg
Former attorney general emerges as contender for Senate seat
David Samson, chairman of the Port Authority of New York and New Jersey and a confidant of the governor has emerged as a possible contender to fill the U.S. Sen. seat left vacant with the death of Sen. Frank Lautenberg.
Several Republican sources tonight said Samson could emerge as a placeholder candidate for the seat when Gov. Chris Christie names Lautenberg's successor as soon as tomorrow. Naming a placeholder would leave the field open for the August primary. To date, only former gubernatorial candidate Steve Lonegan has officially declared his intent to run in the primary. (Isherwood/PolitickerNJ)
http://www.politickernj.com/66144/former-attorney-general-emerges-contender-senate-seat
Carroll throws his support behind Lonegan for U.S. Senate
Assemblyman Michael Patrick Carroll (R-25) said he intends to support Steve Lonegan in the GOP Primary for U.S. Senate.
"Absolutely," Carroll told PolitickerNJ.com, referring to the news first reported by PolitickerNJ.com that Lonegan is running for the seat vacated by U.S. Sen. Frank Lautenberg (D-NJ). (Pizarro/PolitickerNJ)
http://www.politickernj.com/66143/carroll-throws-his-support-behind-lonegan-us-senate
Logan Mayor Minor says, if asked, he would run on ticket with Buono
Mayor Frank Minor, who won re-election last year and stood onstage at Barbara Buono's campaign rally last night, said he would accept the job of lieutenant governor if Buono asked him.
"I haven't ruled it out, and if asked I would accept," Minor told PolitickerNJ.com. "I would be honored to serve with her. She is a courageous and strong-willed person with a strong grasp of the issues. Sen. Buono is a friend and I believe she will succeed in winning this race." (Pizarro/PolitickerNJ)
http://www.politickernj.com/66140/logan-mayor-minor-says-if-asked-he-would-run-ticket-buono
After trouncing opponent in LD20, Lesniak opines O'Donnell's skill set wrong for party
As allies of Democratic gubernatorial candidate Barbara Buono scramble to secure state committee votes for Assemblyman Jason O'Donnell (D-31), Bayonne, the districtmate of O'Donnell's biggest champion in the State Assembly said he would do the job if asked.
A 2-1 victor in his re-election bid yesterday, state Sen. Ray Lesniak, a state party chairman in the 1990s, said he believes O'Donnell lacks the skill set the party needs right now. Instead, Lesniak said, his own skills are what the party needs. (Pizarro/PolitickerNJ)
http://www.politickernj.com/66139/after-trouncing-opponent-ld20-lesniak-opines-odonnells-skill-set-wrong-party
GOP lawmakers pass sponsorship of bills to Sen. Norcross in order for them to get a hearing
TRENTON – In order to protect children and families, and due to Senate President Stephen Sweeney's ongoing ban on Republican representation,
Senators Christopher "Kip" Bateman (R-16) of Neshanic Station and Steven Oroho (R-23) of Sparta said today they have passed their sponsorship of two key bills to Sen. Don Norcross (D-5) of Camden, in order for them to be heard at committee hearings. (Hassan/PolitickerNJ)
http://www.politickernj.com/66137/republican-lawmakers-relinquish-sponsorship-bills-sen-norcross-order-them-get-hearing
Lonegan running for US Senate; Doherty backing him
Steve Lonegan is running for senator.
Fellow movement conservative leader state Sen. Mike Doherty (R-23) met with Lonegan today and decided to throw his support behind Lonegan. (Pizarro/PolitickerNJ)
http://www.politickernj.com/66131/lonegan-running-us-senate-doherty-backing-him
U.S. Sen. Race: Pallone and Holt in, Booker mum, Sweeney out, Bramnick and others mulling.
Gov. Chris Christie's blockbuster announcement Tuesday that the U.S. Senate primary would be held in August has touched off a maelstrom of activity as politicos from both sides of the aisle jockey for a potential bid.
The Democratic field has already begun to shake out with sources telling PolitickerNJ Tuesday that both U.S. Reps. Frank Pallone (D-6) and Rush Holt (D-12) are prepared to run. Both men have some cash – Pallone with more than $3 million and Holt with over $700,000 – and neither faces the loss of his Congressional seat should he lose the primary. (Isherwood/PolitickerNJ)
http://www.politickernj.com/66130/us-sen-race-pallone-and-holt-booker-mum-sweeney-out-bramnick-and-others-mulling-where-we-stand
Lautenberg recalled as tenacious backer of transit
SECAUCUS, N.J. (AP) – It's only fitting that a man remembered as Mr. Transportation took his final trip to Washington aboard an Amtrak train Wednesday.
U.S. Sen. Frank R. Lautenberg of New Jersey was remembered at his funeral at a New York City synagogue by admirers including Vice President Joe Biden, former Secretary of State Hillary Rodham Clinton and several of Lautenberg's children and grandchildren, who spoke of his drive to fight for what he believed, whether on the Senate floor or around the dinner table, up until his death Monday at 89 of complications from viral pneumonia. (Porter & Zezima/AP)
http://m.apnews.com/ap/db_268748/contentdetail.htm?contentguid=EVogonX1
Several mull run for U.S. Senate special election in N.J. while Democrats consider challenging it
Potential U.S. Senate candidates scrambled to muster support as Democrats considered a legal challenge to the special election Governor Christie set for October and questions grew about the $24 million price tag, with one lawmaker pushing to move up the November election.
With the primary over and the late Sen. Frank Lautenberg's funeral behind him, Christie will soon decide on his appointment for the vacant seat, sources close to the governor said Wednesday. During his Tuesday news conference announcing the special election, Christie indicated he wanted to have a replacement in Washington, D.C. next week when Congress debates immigration reform. (Hayes, Stile & Linhorst/The Record)
http://www.northjersey.com/news/Some_mull_running_in_special_election_while_Democrats_consider_challenging_it.html
Advocates fight to stop Christie administration from taking up to $165M from local housing funds
Affordable-housing advocates told an appellate panel of judges Wednesday that the Christie administration, in its rush to balance the state budget, "set up" towns to fail when it tried to take up to $165 million in local housing funds.
Kevin Walsh, an attorney for the Fair Share Housing Center, argued that the move would put thousands of units of housing for low-income and disabled New Jerseyans at risk and stifle development that is needed to help rebuild after superstorm Sandy devastated houses along the shore last year. (Campisi/The Record)
http://www.northjersey.com/news/Advocates_fight_to_stop_Christie_administration_from_taking_up_to_165M_from_local_housing_funds.html
"You're just like Corzine!" "No I'm not!"
Today is the official first day of the general election, and the gloves are off (not that they were ever really on).
As colleague Sean Carlin and I wrote in today's paper, Gov. Christie didn't mention the name of his opponent, Barbara Buono, once last night in his primary victory speech. But he mentioned someone else: Jon Corzine, the unpopular former Democratic governor whom Christie defeated in 2009 amid a state budget crisis. (Katz/Inquirer)
http://www.philly.com/philly/blogs/christie_chronicles/Youre-just-like-Corzine-No-Im-not.html
Lautenberg remembered with tears, laughter
NEW YORK – In a moving ceremony that was also filled with laughter, Sen. Frank R. Lautenberg's family and colleagues recalled him Wednesday as a feisty and determined man whose life story shaped his work – and also described a personal side rarely seen in public.
Lautenberg's funeral on the Upper East Side drew 41 senators, six members of Congress, Gov. Christie, and former Govs. Jon S. Corzine, Jim McGreevey, and James J. Florio. Vice President Biden, former Secretary of State Hillary Rodham Clinton, and New Jersey Sen. Robert Menendez delivered eulogies. (Tamari & Seidman/Inquirer)
http://www.philly.com/philly/news/politics/20130606_Funeral_services_set_for_today_for_Lautenberg.html
Primaries over, governor's race shifts to Christie-Buono
BRIDGEWATER, N.J. – The polls on a sleepy gubernatorial primary quietly closed at 8 p.m. Tuesday, and with that the bell rang on what promises to be a far more compelling gubernatorial general election. Republican Gov. Christie, who has become a national political phenomenon in his 3½ years in office, will face Democratic State Sen. Barbara Buono, a longtime legislator with a decidedly liberal streak.
In the primaries Tuesday, Christie easily swatted away a tea party challenger, Atlantic County lawyer Seth Grossman, and Buono cruised past a Democrat who didn't campaign, Troy Webster. (Katz & Carlin/Inquirer)
http://www.philly.com/philly/news/politics/20130605_Primaries_over__governor_s_race_shifts_to_Christie-Buono.html
Booker collecting signatures for U.S. Senate special election
Newark Mayor Cory Booker has started the process to run in a special August primary to fill the seat of U.S. Senator Frank Lautenberg, who died Monday.
Kevin Griffis, a spokesman for the mayor, confirmed tonight that volunteers were collecting the 1,000 signatures due by Monday to participate in the primary. (Giambusso/Star-Ledger)
http://www.nj.com/essex/index.ssf/2013/06/booker_collecting_signaturs_fo.html#incart_river
If Gov. Christie wants October election, Senate Democrat proposes giving him two
State Democrats spit fire Tuesday when Gov. Chris Christie decided to spend millions of dollars to hold a special election for the U.S. Senate in October, rather than on the same day as the November general election three weeks later.
So today, one of the governor's critics said she had the perfect solution. (Baxter/Star-Ledger)
http://www.nj.com/politics/index.ssf/2013/06/gov_christie_wants_october_ele.html#incart_river
Christie camp flooded by interest from U.S. Senate hopefuls
The chairman of Gov. Chris Christie's re-election campaign is being inundated with calls from people who want to be considered for the U.S. Senate appointment despite their lack of support for the governor's statewide campaigns.
"I am amazed at the people who I haven't heard from in 10 years who didn't contribute to the '09 campaign or the 2013 primary campaign, but want to be considered," Bill Palatucci said today. (Portnoy/Star-Ledger)
http://www.nj.com/politics/index.ssf/2013/06/christie_camp_flooded_by_inter.html#incart_river
From the Back Room
It's worth noting…
There was a man on the stage last night at Democratic gubernatorial nominee Barbara Buono's celebration who drove all the way up to Edison from Gloucester County, and no, we aren't talking about Senate President Steve Sweeney (D-3), who was also present. (Pizarro/PolitickerNJ)
http://www.politickernj.com/back_room/its-worth-noting
Opinion
Opinion: Stop 'continued use of taxpayer funds to prop up the Trenton Marriott Hotel'
In "The Cause: The Fight for American Liberalism from Franklin Roosevelt to Barack Obama," Eric Alterman wrote this about FDR: "Despite Americans' historical aversion toward the trappings of a powerful central government, Roosevelt managed to provide an example for future generations to create collective initiatives aimed at social amelioration."
As a dyed-in-the wool liberal, I strongly favor FDR's pro-active role for government. But just because I believe that government can do good things does not mean I support each and every proposal for government involvement. (Times of Trenton)
http://www.nj.com/times-opinion/index.ssf/2013/06/opinion_stop_continued_use_of.html