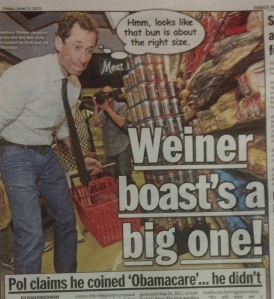 Headline of the Day: "Bloomberg's new resiliency plan nods (on page 406!) to a congestion pricing scheme."
The context of Anthony Weiner's "coined" Obamacare claim does seem to clarify what he meant: "…a term, by the way, that I coined and used proudly, long before the administration decided it was a good idea. And I got yelled at by the White House for using it, and then they eventually reached the place where they used it." That didn't stop the tabloids from piling on, of course. It's also not clear that he was the first Democrat to embrace the term.
Mr. Weiner also disagreed with another element of that New York Times story: the salad he allegedly threw against the wall in anger.  "I mean, I'm a much mellower person than I was when the salad did or did not wind up on the wall," he explained. "The salad story's apocryphal," he further insisted. "I don't do salad. That's the other thing about the story. I don't do salads."
Wielding language she's used to critique others, Speaker Christine Quinn became the first major Democrat to criticize Mr. Weiner. "What New Yorkers must have in a mayor isn't somebody who just makes promises, isn't somebody who just has press conferences, but somebody who can deliver," she said when asked about his congressional record last night. "How do you know if somebody can deliver? If they have delivered."
And Congressman Joe Crowley, everybody: "Roll Call asked if he would play better than the last congressman to wear a full Mets uniform in the game, current New York City mayoral candidate Anthony Weiner, Crowley brought the quintessential Empire State lawmaker sass. 'I don't know that I'm going to play better than him, but I'm definitely going to use the Internet better than him,' Crowley said."
Republican mayoral hopeful Joe Lhota "evolved," in the words of The Jewish Week, in his policy beliefs regarding a controversial Jewish circumcision ritual: "He now sees it as a 'slippery slope' that can lead to infringement on religious practice … 'In no way, shape or form should the government get involved as long as they tell the parents what the risks are.'"
Front-running City Council candidate Ritchie Torres would be the first openly gay legislator in the Bronx if elected. "Look, it's going to cost me some votes," Mr. Torres, an aide to Councilman Jimmy Vacca, said of his decision to be open about his sexuality. "But I think it's the right thing to do." Another candidate in the race, Senate aide Kenny Agosto, is also openly gay.