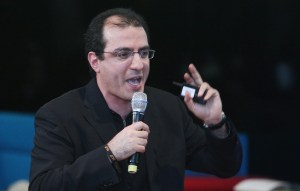 Headline of the Day: "Anthony Weiner Apologizes for Sexting Story That Isn't Even Out Yet."
Alternate: "The Mystery and the Agony of the New York Times' Juicy Anthony Weiner Story."
Political consultant Evan Thies made a case for Anthony Weiner's strength among black voters. "In short, black voters had more practical concerns than the President's philandering," he argued. "On average, white voters live in lower-crime areas, have more money and enjoy a higher quality of life than black voters. To put it bluntly: Perhaps white voters (like me) can afford to judge their candidates on character, while black voters can't."
GothamSchools is reporting that Jack Hidary, a wealthy tech entrepreneur, is exploring a bid for mayor "as an independent, according to three sources with knowledge of the bid." Of course, there's a big difference between running for mayor as an independent with ballot lines like Mayor Michael Bloomberg had, and petitioning onto a non-major line.
The Center for Public Integrity looked at nonprofit corruption both in New York State and nationwide. "Since 2010, at least eight New York lawmakers or their related charities have been investigated, charged or convicted of pillaging public funds," they wrote. "New York's legislators outshine their peers in this department, but they're not alone."
Crain's New York Business got hold of a very bluntly-worded memo from a charter school group, addressing candidates like Speaker Chris Quinn and former Comptroller Bill Thompson. "[S]everal of the candidates—namely Quinn and Thompson—have attempted to play nicely with the UFT while not closing the door to being able to work with the education reform coalition later," the memo says. "There has been some serious parsing of words.'"
State Senator Daniel Squadron's public advocate campaign received a boost from Senator Chuck Schumer and State Senator Adriano Espaillat. Mr. Squadron, of course, is a former Schumer aide, but the Daily News tells Mr. Weiner, another ex-staffer in a citywide campaign, to not get his hopes up.
It's not just Brooklyn D.A. Joe Hynes getting favorable play in CBS's new Brooklyn DA series. Rev. Erick Salgado, a candidate for mayor, even made an appearance: