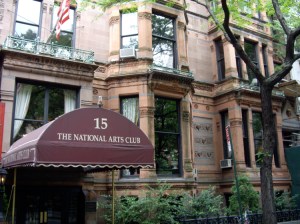 Aldon James has officially left the building.
Mr. James, the National Arts Club's disgraced former president of 25 years and notorious antique hoarder, was finally evicted from his 15 Gramercy Park South digs today.
The eviction brings an end to a very long, very strange saga involving dead birds, antique hoarding and rose-colored glasses.
According to an 18-month investigation by the Attorney General's office, the three men stockpiled club apartments — below market value or for free — to allegedly hoard antiques they purchased on flea market sprees using club funds.
A warrant forced him and his twin brother John James as well as their friend Steven Leitner to vacate their club apartments by July 31.
DNAinfo reports that now that the three men have gone, the Club must offer available apartments at "no less than fair market value" and conduct a host of other management changes.
Staffers said that John James had been spotted around the Club recently, scoping out the three men's inventory. At the end of the day, DNAinfo reported the Aldon era was condensed to just 30 boxes — which is not a bad pull for 25 years of presidency.