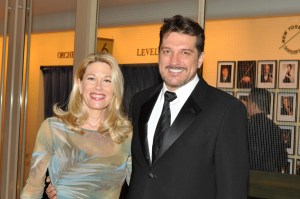 "What you are about to see is several of the foundation's protégés doing what they truly love to do," announced our host, actor and arts philanthropist Alec Baldwin, to a dignified audience at Carnegie Hall last Monday evening. We had gathered for a one-night-only concert to benefit the Lang Lang International Music Foundation, and six young prodigies were about to take the stage. The adorable and mesmerizing Johnson Zhongxin Li, 9, played Beethoven's Piano Sonata for Four Hands in D major, Op. 6 with the help of Lang Lang himself.
"When you play in [Carnegie Hall], you hear the sound of angels," chirped Kate Xintong Lee, 12, after her performance.
Then came the pros: Scandinavian pop star Oh Land performed two haunting ballads with Lang Lang and Joshua Bell on instruments, John Legend swaggered through a duo of R&B tunes and supple soprano diva Renée Fleming gave a stellar performance of a Joseph Canteloube folk aria. But it was her encore of "Ô mio babbino caro," that received the thunderous, emotional applause.
"I don't think anyone really wants to hear us play the piano," laughed a very pregnant Hilaria Thomas Baldwin on the arm of her husband at the post-concert dinner in the Time Warner Center.
"I have no musical abilities!" interjected Mr. Baldwin. "I am only a fan and endless admirer."
"Have you played any Lang Lang for the baby?" Shindigger asked.
"You know what? The entire time [during the show], she was kicking," Mrs. Baldwin revealed.
And the beat went on the next night at BAM's Ignite Gala at the SkyLight Modern in Chelsea, which had been transformed into a verdant, tropical formal dining hall. As Shindigger munched on an heirloom tomato and avocado salad, students of BAM/Restoration Dance delivered a rousing cultural performance. For the mains, we had freekeh salad, haricot verts and polenta and enjoyed two original poetry performances. (BAM's events are always as tasty as they are enriching.)
"I grew up in New York City; I attended public school," began actress Lucy Liu after congratulating honoree Richard E. Feldman on his Ignite Award. "I didn't really recognize who I was and where I was going until I started to participate in arts programs, and that was not something that was readily available to me."
She continued: "In education, budgets are being slashed, and unfortunately children are the ones who suffer. In the end, we will all suffer."
The end of this particular event saw only a performance by Rufus Wainwright, no suffering.
And then onto the New York Philharmonic's spring gala, where Tony winner and Met Opera baritone Paulo Szot swept patrons off their feet with the help of Megan Hilty and Marin Mazzie—all under the baton of Ted Sperling. The repertoire was titled "An Enchanted Evening" and featured a potpourri of classic show tunes and Brazilian love ballads. Shindigger scampered into Avery Fisher Hall just in time for Mr. Szot's encore of "This Nearly Was Mine" from South Pacific.
"I loved 'So in Love' with Marin Mazzie. I thought that was amazing," gushed national news correspondent Alina Cho as she kissed Shindigger on both cheeks and introduced us to her mother, her date for the evening. Ms. Cho, who had traveled with the Philharmonic orchestra to North Korea in 2008 and filmed a segment there for CNN, looked delectable in one of her bestie Bibhu Mohaptra's shimmering gowns.
"I'm actually a fan of Megan Hilty," she added. "The crazy thing is I had lunch with Debra Messing today, so it's been a Smash kind of day."
Alec Baldwin, clearly on a performing arts charity binge last week, strode up to Ms. Cho's table along with Karen LeFrak, who is on the New York Philharmonic board of directors and serves as a chair for the special events committee.
"I loved the South Pacific songs," Ms. LeFrak said as she greeted Ms. Cho and co. "I think because I had seen Paulo do it [on Broadway]."
Ms. Mazzie was all bubbles as well, since the evening marked the first time she had the opportunity to sing with Mr. Szot.
"It was very exciting to be able to sing with that magnificent, glorious voice and that magnificent beautiful man," she giggled. "I love singing with the Philharmonic. They truly are one of the greatest orchestras in the world, if not the greatest. And Ted Sperling and I have been friends for more years than I'm willing to say!"
"When will we see you back on the Broadway stage?" Shindigger prodded.
"Just keep your fingers crossed, 'cuz it's gonna be soon," she said sotto voce.
"This is an opportunity for us to have a different type of music than might be customary and just be festive," explained Philharmonic chairman Gary W. Parr as we sipped on a Chilean cabernet sauvignon. "It does draw something of a different audience," he winked. "It's a good time!"
Before guests dined on chimichurri-grilled prime steak and vegetables, we found Ted Sperling and asked him what his most memorable musical moment of the evening had been.
"I really enjoyed the two Cole Porter tunes, 'My Heart Belongs to Daddy' and then 'So in Love,'" the conductor-director told us. "It's just such a luscious piece of material. They both have a sexiness to them."
And with that, Shindigger trekked back to our date, head swimming with good music and good wine, both enchanted and aroused.