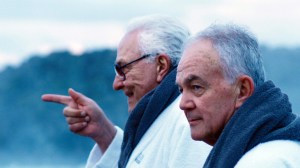 SECAUCUS JUNCTION – Drums rocked the floor and the sounds of bagpipes reverberated off the walls and massive ceiling of the Secaucus Junction train station that bears the name of the late Sen. Frank Lautenberg Wednesday afternoon.
Lautenberg, the five-term U.S. senator who died earlier this week at age 89, was ushered into the station by the NJ TRANSIT color guard while uniformed personnel played taps in his honor. Lautenberg's casket briefly sat in the station's upper rotunda where officials took part in a moment of silence for the man whose long legacy includes his commitment to public transportation.
Fitting, officials said, for Lautenberg's final farewell from the Garden State to be at the station that memorializes the former lawmaker.
Dedicated in 2003, a permanent plaque stands in the rotunda of the Senator Frank Lautenberg Rail Station at Secaucus Junction.
"During an exemplary and extraordinary productive career in public service," it reads, "Senator Lautenberg has been an energetic advocate for New Jersey and for an efficient passenger rail service so crucial to strengthen the state's economy."
Family members and dozens of dignitaries crowded the station to take part in the brief ceremony led by Rabbi Dan Cohen of South Orange.
"He never lost sight of the fact that he had an obligation to give back to the community," Cohen said. "He left a mark."
Lautenberg's casket was then handed off to the Amtrak Color Guard as he was led down to the track to board his final train out of New Jersey and on his way to Washington D.C. The World War II veteran's final resting spot will be Arlington National Cemetery.
Lautenberg's family embraced one another along Track 3 prior to the train's door closing.
Gov. Chris Christie and Lt. Gov. Kim Guadagno were among the officials standing alongside the track.