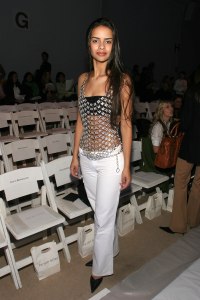 These beauties are in a lot of pain.
Prosecutors are considering charging model Romulo Pires da Silva with felony strangulation for allegedly attacking his fiancé Thais Oliveira. But she doesn't want him behind bars–she wants to marry him instead.
According to The New York Post, Mr. da Silva allegedly choked and bit his gorgeous girlfriend, and imprisoned her in the bedroom of their West 31st Street apartment.
Ms. Oliveira, who models for Guess Jeans, first told cops that Mr. da Silva viciously attacked her, but now she has changed her tune.
"She does not want to press charges," defense attorney Jeffrey Chabrowe told The Post. He claims the couple has been together for nine years without incident and still intend to get married. Ms. Oliveira is refusing to cooperate with prosecutors.
Mr. Chabrowe says that the engaged couple simply had a fight. "Any injuries she suffered were a result of him trying to keep her off of him, and they've both told cops and prosecutors that," he said.
While a felony strangulation would be Class D felony, carrying a maximum sentence of seven years imprisonment, Mr. da Silva has already been charged with misdemeanor assault, strangulation, harassment and unlawful imprisonment in the alleged attack.
Prosecutors are charging ahead in the matter without Ms. Oliveira's cooperation, mulling taking the case before a grand jury.
For now, the couple, who emigrated from Brazil together, is being kept apart, according to their attorney. "They won't even allow them to be together," he lamented.  "He's actually the sweetest guy."
Mr. da Silva is due in court today.