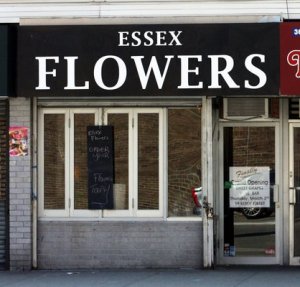 The Lower East Side has long been the destination for New York's most cutting edge contemporary art, and later this month the ranks of its already impressive gallery roster will gain a unique entry on the scene. Essex Flowers, set to open June 28, will be part cooperative, part Kunsthalle and a new direction in the increasingly malleable art gallery model.
The 400-square-foot, artist-run gallery will be located in the basement of an eponymous flower shop at Essex and Grand, right in the middle of what might be called the L.E.S. gallery district. Its programming will be handled by nine up-and-coming artists: Phillip Birch, Patrick Brennan, Amanda Friedman, Heather Guertin, Van Hanos, Jeffrey Tranchell, Lizzie Wright, Denise Kupferschmidt and Joshua Smith (a monochrome painter who shares his name with a different artist who shows at Luhring Augustine). The last two artists on that list used to organize the floating Apartment Show series that ran from 2008 and 2010, which included a fake retrospective of James Cameron at MoMA PS1. Essex Flowers is expected to have a similarly experimental program.
The artists are in the process of renovating the basement so that it looks just like a gallery space. They also plan to use the shop's 500-square-foot back garden and a wall of the shop itself for shows.
The idea for the Essex Flowers gallery started when Bill Frazer, the owner of the flower shop, reached out to members of the group and asked if they might be interested in the project.
"We serendipitously met Bill who was interested in showing art in his flower shop," wrote the nine artists in an e-mail. (Because they're dedicated to a horizontal structure in organizing shows, they preferred not to be quoted individually for this post.) "The space itself is really interesting, as a group we could see the potential to do a lot with it. We began discussing how if we took his interest seriously, we could create a space where we would all have an equal hand in how it functioned. We all have different visions as to what that is, so part of the project is to clarify that over time. It's already led to a great dialogue between us, which in itself is rewarding. A large part of the project is built on mutual trust, essentially the artists split the cost to build out the space beneath the existing flower shop. Bill runs the flower shop, we program the space."
The group has yet to work out how sales from the shows will be handled. The debut opening, a group show of the nine artists' work, will be be held on June 28, from 5–8 p.m.