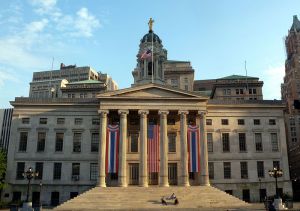 Lewis Santoni, an investigator with the city's Department of Investigation, is mulling an eleventh-hour run for Brooklyn borough president.
The 55-year-old Park Slope resident said he was "unimpressed" with the current crop of candidates and is seriously thinking about launching his own long-shot bid. 
"I'm trying to get some union support, that's where I am at the moment," Mr. Santoni, told Politicker Thursday. "I think my interest came from the fact that the pool of candidates wasn't impressive at all." A source said Mr. Santoni had already recently interviewed for the municipal union DC 37's endorsement.
Mr. Santoni, a political neophyte, cited overdevelopment in Brooklyn as a key issue of his possible campaign, including opposing a plan to build apartment buildings over Brooklyn library branches. Declaring that he "wants to get his feet wet" in politics, Mr. Santoni further said front-runner State Senator Eric Adams's potential legal troubles–a court document suggested federal prosecutors has an unspecified interest in Mr. Adams–also motivated him to try to reach the ballot.
"It's better to be the candidate in the wings when the bird that has the nest gets shot out by hunter," he explained. "I'd rather be second name on the list."
The race to replace term-limited Brooklyn Borough President Marty Markowitz has only two Democratic candidates: Mr. Adams, the overwhelming favorite who has received virtually every establishment endorsement, and John Gangemi, an attorney and former councilman.
Mr. Santoni has not registered a campaign committee yet and, if he were to officially enter the race, he would have a very short window of opportunity to even get on the ballot. Petitioning  is already underway and Mr. Santoni would only have until July 11 to gather the necessary signatures.