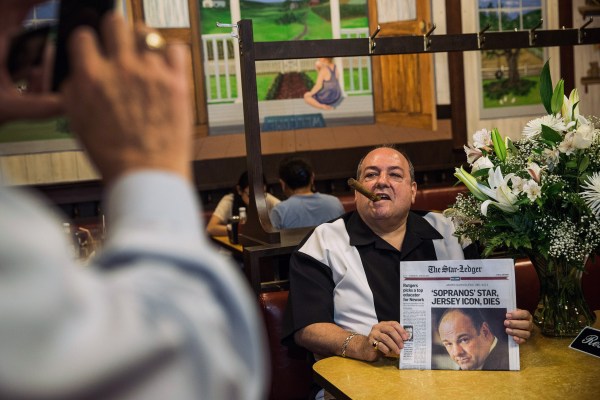 Toeing that queasy line between memorial and merchandising, yesterday's devastating news about the death of actor James Gandolfini has prompted a swift outpouring to the media from several New Jersey businesses that had a tertiary relationship to The Sopranos or its star.

Holsten's ice cream shop in Bloomfield, N.J., has set out a "reserved" sign at the table where the final scene of the HBO drama was shot, according to The New York Post. The owners also spoke to the press last night, before fans began "flocking" to the parlor.
"A lot of people came just to see it, not to get ice cream," said Sarah Carley, whose father owns the establishment.
"We've known him for a very long time, since he was a teenager," another diner owner, Mike Meidanis, told the Post. "He came every Sunday." The article notes that there is a picture of Gandolfini from a New Jersey magazine near the door of Mr. Meidanis's Ridge Diner.
Meanwhile, the Satin Dolls strip club in Lodi, N.J., which served as the Bada Bing club in the show, told RumorFix that it is reaching out to HBO to organize a tribute that "will involve as many of Gandolfini's Sopranos co-stars as possible."