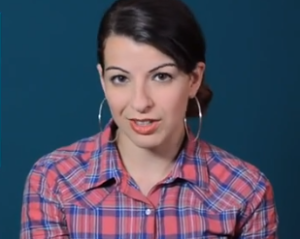 It's not hard to find vitriol on the Internet. But if you're fiending for a reason to hang your head in shame re: humanity, tweeting about the lack of female representation in video games seems to be the perfect way to coax bilious haters out of the woodwork.
Feminist media critic Anita Sarkeesian made a simple observation yesterday and blasted it out on Twitter. "Thanks, #XboxOne #E3 press conference for revealing to us exactly zero games featuring a female protagonist for the next generation," she said. Within minutes, a diarrheal flow of fury was unleashed upon her as a puerile crop of gargoyles attempted to put her in her place.
She reproduced a bunch of them on her Feminist Frequency Tumblr. Curating the worst of them was not easy, but here's a small cross section. These guys really put the D in SMDH.
Better at "battle rolls"? Shit, you're right, no wonder you guys are the dominant gender. That why.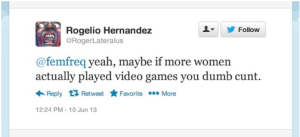 More women would gravitate toward video games if there were more female protagonists, genius. That means a thriving video game economy. A world with more gamers could even dismantle the stereotype that people who play video games are all antisocial male virgins who never see the light of day. Can't imagine where people get that idea.
Yes, cooking and cleaning games, because that's all women are good for, which is why Ms. Sarkeesian is carving out a career as an academic and a well-known cultural critic while Abdul here is sitting on his ass, harassing people on the Internet, waiting for a sandwich that will never come.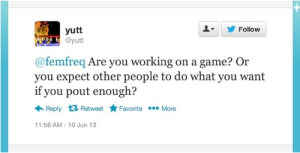 She's not pouting, she's agitating for change within the gaming industry. And do you honestly think that if she waltzed into a big gaming company and pitched a female-fronted game, people would rush to fund it and help develop it? No, they're too busy working on Grand Theft Auto XVII: Rape Canyon.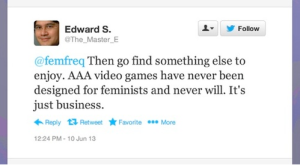 Video games have never been designed for feminists and never will be. Women were never allowed to vote and never will be. Contraception has never been socially accepted and never will be. Oh wait, none of that is true, because people worked on changing things.
Look, we know these asshats don't speak for all male gamers, but they're vocal enough to attract attention — and to make it look like Ms. Sarkeesian's critiques of the gaming industry are pretty spot-on. So guys, next time you want to people to actually believe the culture you hold dear isn't sexist, maybe don't use the c-word?