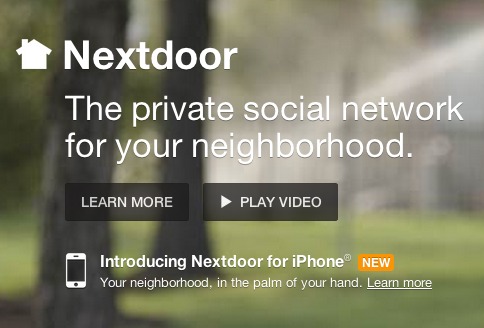 The Bloomberg administration has found yet another platform on which to holla at New Yorkers.
Today the city announced a big partnership with Nextdoor, a Silicon Valley-based social network for neighborhoods. (Because come on, you want some way to vet those randos before you interact with them IRL.) It's a new channel for the city to get very granular information–whether emergency alerts or announcements about street fairs–to people more quickly.
Mayor Bloomberg said in an announcement: "Nextdoor gives New York neighbors an easy way to connect and communicate with those who live around them. It also provides the City with a direct line of communication to residents about important and often critical updates."
Nextdoor runs a series of small, password-protected networks for individual neighborhoods. And they're not even as broad as "Chelsea" or "Brooklyn Heights," either–the company has already created 1,800 sites for patches across the city. To get in, you have to verify your address, by providing a credit card or phone with your billing address or requesting a postcard with an invitation code, and you can't just Google your way to postings. (So the glorious anarchy of CityData is safe.)
Basically, it's the perfect place to complain about your neighbor down the hall who rents her apartment out to French 20-somethings via Airbnb every single weekend. Have fun!