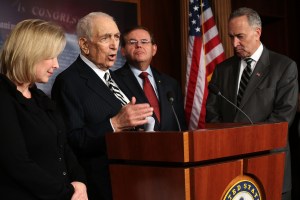 Although New Jersey Senator Frank Lautenberg died this morning, his memory lives on, according to two of his former colleagues from across the Hudson River.
"Frank Lautenberg was the very best of the greatest generation. He grew up poor, served his nation bravely during World War II, led a company that created tens of thousands of jobs, and spent the second half of his life giving back via public service," New York's senior senator, Chuck Schumer, gushed in a statement. "And, boy, did he give back a lot."
Mr. Schumer then ticked off various legislative efforts, including those for transportation development, gun control and anti-smoking measures.
"The list of his accomplishments would take many pages. Frank was a close and loyal friend who never put on airs and said what he thought, when he thought it," he continued. "We knew he was ill, but his passing is still a gut shot to those of us who knew and loved him. I am a better person for having known him and America is a better place for having benefited from his long and rich service. "
Mr. Schumer was joined by New York Senator Kirsten Gillibrand, who labeled him a "true champion."
"Frank was a true champion for those who need a voice in Washington," she said in her own statement. "I am honored to have had the privilege to fight side-by-side to secure health care for our 9/11 first responders, ensure federal support for the families and businesses devastated by Superstorm Sandy, strengthen our gun laws, and reform chemical safety laws. We have lost a remarkable fighter and wonderful man. His voice will be sorely missed in the halls on Congress."
Of course, the tributes to Mr. Lautenberg's record are coming in from far and wide, including from the country's top public official, President Barack Obama:
"Michelle and I were deeply saddened to learn of the passing of Senator Frank Lautenberg, a proud New Jerseyan who lived America's promise as a citizen, and fought to keep that promise alive as a senator.

The son of working-class immigrants, Frank joined the Army during World War II, went to college on the GI Bill, and co-founded one of America's most successful companies. First elected to the Senate in 1982, he improved the lives of countless Americans with his commitment to our nation's health and safety, from improving our public transportation to protecting citizens from gun violence to ensuring that members of our military and their families get the care they deserve.  Michelle and I extend our deepest condolences to Bonnie, the Lautenberg family, and the people of New Jersey, whom Frank served so well."