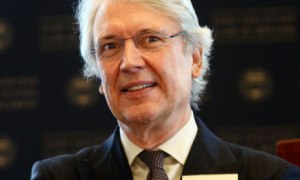 After being ousted as CEO of Dow Jones & Company and publisher of The Wall Street Journal, Les Hinton must have had trouble filling his days. Associated for over a century with Rupert Murdoch's publishing empire—"I vividly recall an enthusiastic young man in the offices of my first newspaper in Adelaide, where Les joined the company as a 15-year-old and had the rather unenviable task of buying me sandwiches for lunch," Mr. Murdoch wrote upon Mr. Hinton's News of the World-linked departure.
For years he was one of Rupert Murdoch's closest confidantes. His "London hit man," he survived the first few years of the News of the World phone hacking scandal, before finally being thrown overboard in 2011 as the scandal reached a fever pitch and eventually took down the paper itself. (Though Mr. Hinton can consider himself lucky that, unlike News of the World editors Andy Coulson and Rebekah Brooks, he was never arrested in connection with the contretemps.)
Mr. Hinton is still, as far as we can tell, unemployed (though certainly not untweeted), but at least he'll be able to kill some time redecorating his new apartment: he picked up a third-floor unit at 870 Fifth Avenue, according to city records.
Fitting for someone who seems to be out of work, the co-op, listed by DG Neary Realty's Abraham Hochzeit, is one of the plainer abodes on that storied avenue. With "oblique Central Park Views," a dining room that recalls the size and shape of a submarine and a listing that invites would-be buyers to "experience the benefits of a low floor" (higher chance of surviving defenestration? great for when the elevator breaks down), the two-bedroom previously owned by Miriam Holmes fetched only a hair under $2 million, down from a $2.4 million asking price when it first went on the market last year.
Mr. Hinton's lists his current address as the Upper East Side townhouse that he shares with longtime partner and new wife Kath Raymond Hinton (Piers Morgan, Rebekah Brooks and Andy Coulson—the latter two also taken down by the News of the World scandal—were reportedly in attendance), who was not listed on the deed.
Ms. Raymond Hinton was formerly an aide to British Prime Minister Gordon Brown, and was only persuaded to give up her 10 Downing Street gig and hop across the pond after some "internal domestic discussion" with her husband. We hope she likes post-war beige brick.