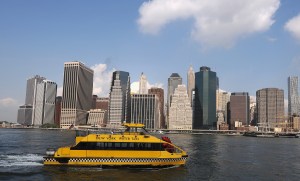 Battery Park was treated to an unexpected full moon Thursday night.
A man attempted to board two Hudson River ferries around 8:30pm last night in a bewildered state.
The first ship's captain denied his entry because of his derangement, but he managed to make his way onto the second New York Water Taxi, according to The Post.
After he was on the boat, he stripped down to his skivvies in perfect sailor fashion.

For some reason, the captain of the second boat didn't appreciate the performance and forced the man to exit the boat. At that point, there was only one option for the man: to jump into the dirty river.
The police spent about 15 minutes fishing the man out of the river, according to The Post. There is no word on what they used as bait.
The police then took the man to Bellevue Hospital for evaluation, according to The Post.
We're not sure the exact sequence of the man's night, but we're pretty sure it went something like this:
[youtube http://www.youtube.com/watch?v=AutCYC3dH-E]