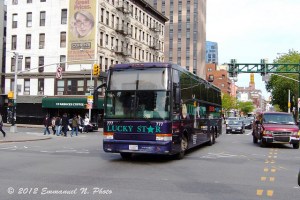 The era of cheap travel out of Chinatown is ending.
On Wednesday, the U.S. Department of Transportation shut down the Lucky Star bus line, which offered $15 trips to Boston from New York City's Chinatown, just three months after shuttering Fung Wah, another Chinatown carrier. Lucky Star had increased its one-way ticket charge to $25 after Fung Wah closed.
The Federal Motor Carrier Safety Administration, which regulates interstate bus travel, published a report detailing Lucky Star's glaring lack of vehicle maintenance and employ of unmonitored drivers. One regularly used bus had a 4-by-2 foot hole in the bottom.
Investigators found that Lucky Star's buses had broken down 80 times in the last year alone, forcing passengers to "disembark along the highway." Additionally, the report noted that the company did not regularly test drivers for drugs and alcohol or monitor their work hours.
Lucky Star owner Edward Leung told the Boston Globe, "It happened so suddenly, I'm shocked." He declined to comment further.
"You can't have discounted fares in the place of safety," a transportation compliance consultant said in the Globe. "If we had planes that were crashing at the rate of passenger carriers, people would be up in arms."
Although the carrier had had only one crash in the past two years, with no reported injuries, Lucky Star averaged 13 violations per bus over a three-year period. Drivers received numerous citations for unsafe driving, speeding, improper lane changes, and failure to wear a seat belt.
According to the company's website, customers who have already purchased tickets will be refunded. The only Boston-bound bus currently operating out of Chinatown is Yo Bus, a division of Greyhound Bus Lines, which began operating several weeks after Fung Wah shut down.
Lucky Star will remain closed until it addresses the Department of Transportation's safety concerns. Until then, it's Yo Bus or bust.