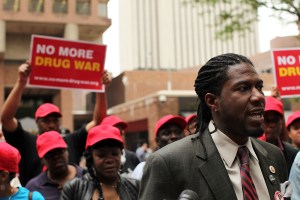 City Council Speaker Christine Quinn announced a plan Monday to bypass Councilman Peter Vallone Jr.'s efforts to halt the passage of two controversial public safety bills by forcing a vote using a rarely-used mechanism that members–including Mr. Vallone—had previously threatened to use against Ms. Quinn.
Councilmen Jumaane Williams and Brad Lander said they plan to file discharge petitions later this week to force the council to vote on two bills opposed by both the mayor and Police Commissioner Ray Kelly: one that would create an independent inspector general to monitor the NYPD and another that would expand the definition of racial profiling and allow those who believe they've been wronged to sue police in state court.
Mr. Vallone Jr., who chairs the Council's Public Safety Committee, is opposed to both bills–especially the latter, which he argues will shackle the police department and cost the city millions in legal fees. As chair, he has the authority to block the bills from coming to the floor, even though they have more than enough votes to pass.
"It would be irresponsible to bring something to a vote that will lead to more deaths," Mr. Vallone told Politicker Monday evening, arguing that lawsuits "would blow a hole in the city budget" and force police officers off of the streets and into courtrooms. While he would allow a vote on the IG bill, the two are being packaged together by their sponsors.
Ms. Quinn, who has been touting her support for the IG bill in her mayoral campaign, is also opposed to the profiling bill, but said earlier this year she would nonetheless allow the bill to come to vote–the first time in her tenure that she said she would allow a vote on a bill she did not support.
Mr. Lander and Mr. Williams expect to formally introduce the final versions of both bills together Wednesday and then file the motions to discharge on Thursday, putting the bills on track for full Council votes.
"We're enthusiastic that the bills have been improved," said Mr. Lander, who praised Ms. Quinn for supporting the efforts. "She and her team have been working very collaboratively with us."
The decision is also full of irony. Mr. Vallone Jr., who is running for Queens borough president, has been one of the most vocal critics of Ms. Quinn's history of holding up bills she doesn't like–and has recently threatened to file his own discharge petitions to push stalled bills he'd introduced to the floor.
Mr. Vallone acknowledged the contradiction, but argued his efforts were justified.
"I don't think you can compare blocking hundreds of bills due to some sort of disagreement with blocking one bill in 12 years because I don't want to see lives lost," he argued. "We're not talking about how much someone is paid. We're not talking about a tax. We're talking about dead kids … I refuse to have blood on my hands."
He also argued that he wasn't really blocking the profiling bill from being voted on, since members always had the option of filing a discharge petition without fear of any type of retribution. After all, unlike Ms. Quinn, he doesn't have any power over other legislation or members' budgets. But he did acknowledge the irony of the move.
"What's a good way to say this?" Mr. Vallone asked, pausing. "I guess fate is a funny thing."