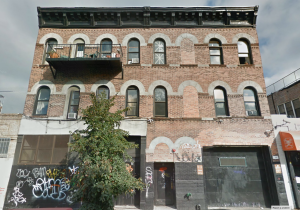 The tenants of 13 Thames St. in Williamsburg have the worst luck.
A year ago, their landlord allegedly hired a biker gang to terrorize them out of their apartment, which, we must admit, is one of the more novel ways to kick people out.
Now — amidst an unlawful eviction and tenant harassment case — the tenants' say their landlord has gone and outdone himself again.
According to DNAinfo, this landlord-of-the-year has now filed for a liquor permit to open a bar in the "living room" of loft that the former Occupy Wall Street partipants and arts collective space once called home.
"Can you imagine if somebody put a restaurant in your house?" the tenants' lawyer, Thomas Hillgardner, lamented to DNAinfo.
The building's owners said that the tenants' vacate order — issued for "an illegal obstruction of the entrance and for the operation of a nightclub in the building" — was the city's doing, and that they have no control over it.
The new lawsuit requests that the landlord and city allow the tenants to return to their homes, though after learning of the hell they've been through, we're not entirely sure why they would even bother.