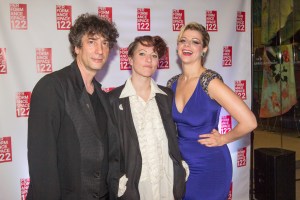 It is a widely accepted dictum that well-behaved women seldom make history. Fortunately, none were in attendance last week for Performance Space 122's spring gala.
The former public school-turned-East Village bastion of alternative theater has been undergoing some much-needed renovations of late—its physical space is out of commission through 2015—but P.S. 122's spirit is thriving. Last Monday night, the institution honored three trailblazing women at El Museo del Barrio, in East Harlem: Councilwoman Rosie Mendez, restaurateur Gabrielle Hamilton and musician and social media fixture Amanda Palmer.
But really, it was Amanda Palmer's show, as her fingerprints seemed to be everywhere: the living statues in the lobby, painted flour white and choreographed by butoh master Vangeline, were of her design; mistress of ceremonies Meow Meow appeared on Ms. Palmer's latest album; and the bandleader, composer and producer Jherek Bischoff also happens to be her bassist.
As attendees sipped champagne and an androgyne with a neon orange mohawk played the theremin, the Transom sneaked backstage to speak to the former Dresden Doll and her husband, acclaimed author and graphic novelist Neil Gaiman, about art.
"The state of the economy and the shifting art marketplace means that places like P.S. 122 are becoming more rare, and more important," Ms. Palmer said. "P.S. 122 doesn't have to exist. It could just as easily vanish, and all of a sudden there would be a void where once there was a place for a certain kind of experimental art."
Ms. Palmer chooses her words deliberately, and she has reason to. In April, New York magazine published a piece titled "The Amanda Palmer Problem," lambasting her for crowd-funding her latest album, enlisting fans to play as her backing band, unpaid, and then justifying those choices in a TED talk. There was also her "Poem for Dzhokhar," composed in the wake of the Boston Marathon attack, which drew the wrath of the web for seemingly sympathizing with the bomber.
Her response, on her blog and in interviews, has been unapologetic and straightforward.
"The Internet is creating a lot of new misunderstandings," she told the Transom. "Most of the people doing commentary on Amanda Palmer don't know most of the story, don't know me and my community. The people who get it—the people who get crowd-funding, who get empathy, who get the sense of freedom in the way we exchange and the way I make art, those are the people that I want to find. I'm not very interested in the critics."
Later that night, comedienne Margaret Cho and MakeLoveNotPorn founder Cindy Gallop took the stage to pay tribute to Ms. Palmer's wide-ranging accomplishments, like the time she successfully liberated Ms. Gallop's Gucci chainsaw—"Yes, I own a Gucci chainsaw"—from Los Angeles airport security by taking to Twitter with the hashtag #freetheguccichainsaw, prompting her 800,000 followers to get on the case.
"It took, after several weeks of prevarication, exactly 45 minutes for JetBlue to tweet me," Ms. Gallop said.
As she took the stage, Ms. Palmer said, "It's been funny hearing people talk about me as being brave. I don't feel very brave lately."
Ms. Palmer also announced that two members of the persecuted Russian punk band Pussy Riot were in the audience. "They've been out on the front lines, pissing people off, making a lot of people think, which is one of the fundamental points of making art," she said. (To protect their identities, the women were not invited onstage.)
As a finale, flag-wielding women in various states of undress marched to drumrolls and bagpipes. As they gathered, they unfurled a banner. "Women Can Change The World," it read.
Two children, wearing the brightly colored balaclavas that have become synonymous with the Pussy Riot protests, then burst through the paper, bearing an amendment: "Must," their banner proclaimed. "Women Must Change The World."