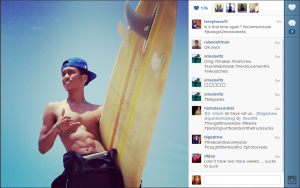 Just in case "Laguna Beach" didn't GO THERE enough to satisfy you, Hollywood producer Peter Chernin has created a reality show that you can follow through the Twitter, Instagram and Vine accounts of nine teens.
That's 27 accounts. Seems excessive, but when we were teens, 27 official platforms dedicated to "Laguna" or "The O.C." would have induced tears of joy.
The show is called "Summer Break," or @SummerBreak, and it follows nine SoCal teens in their last summer before college, according to the Wall Street Journal. It's the first programming to be distributed through Mr. Chernin's Chernin Group, and the producer "is betting it is the future of the entertainment industry," WSJ says.
A bunch of creepy adults will be coaxing content from the teens and pumping them for more and more social media. From WSJ:
"In addition to being asked to tweet his or her daily activities as frequently as possible, each 'Summer Break' participant has an application from Dropbox Inc. on his or her phone that lets producers see every photo they take and video they record.
"'If you're at a party and you take 50 photos you wouldn't Instagram until the next day, we're going to post them for you,' said Lauren Dubinsky, a social-media consultant who is helping with the show, speaking about the participants. 'And if you tweet you're at a party, we send a text asking, "Where are the pictures?"'
The nine subjects were picked based on two criteria: hotness ("kids who are attractive on camera," as WSJ diplomatically put it) and social media activity. The format of the show is perfect for the A.D.D. set, with a 60-second episode posted on @SummerBreak's Tumblr each day, as well as a three-to-five-minute weekly wrapup, according to WSJ.
Fans can also follow the nine cast members in real time on Twitter, Instagram and Vine.
"This is on a level so much further than anything anybody has ever done," Mr. Chernin, apparently channeling Kanye West, told WSJ of the project.
The entire eight-week season is super low-budget for a series, costing less than $5 million — much of which was paid for by sponsor AT&T. Most of the budget goes toward marketing, WSJ reports.
Cast members have unbearably trendy millennial names like Trevis, Lena and Zaq, and the show's Tumblr is full of GIFs and photos that look straight from an Urban Outfitters catalog. If today's young people can make sense of the all-over-the-place format, @SummerBreak could be as big a cultural phenom as "Laguna Beach" and "The Hills" were. After all, Mr. Chernin is responsible for successful network TV sitcom "New Girl," among other shows and movies.
There's just one question: are you Team Trevis or Team Zaq?