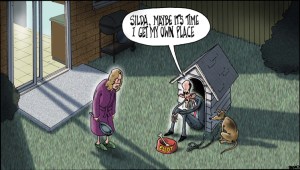 Sean Delonas, The New York Post's veteran Page Six cartoonist, is taking a buyout after 23 years at the paper, he announced on his Facebook page. Mr. Delonas wrote that after nearly 6,000 cartoons, he has drawn his last cartoon for the paper.
"Almost 23 years ago, I took a temporary 3 month job cartooning for The New York Post. Nearly 6,000 cartoons later, I've drawn my last cartoon for the paper. I've accepted a buyout," Mr. Delonas posted on his Facebook page. "I'd like to thank all my colleagues for the great memories. I have nothing but gratitude for Mr. Murdoch and the Post. I believe the paper has a bright future and I look forward to reading it for many years to come."
During a long career at the Post, Mr. Delonas was definitely un-PC. His cartoons for the tabloid at times attracted controversy–like his 2009 cartoon of a cops shooting a monkey, while quipping that they will need to find someone else to write the stimulus bill (prompting cries of racism since Mr. Delonas seemed to be equating a chimp with the president).
Mr. Delonas has already updated the bio on his personal website to reflect the change, making his Post job into the past tense and announced that he plans to post three new cartoons a week, along with commentary, on his website.
"I hope some of the readers who followed my cartoons on Page Six of the NY Post will follow my work here as well," he wrote. "I look forward to your comments, good or bad."