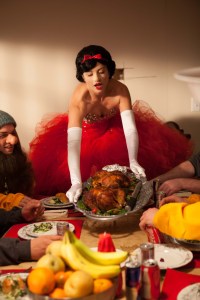 It's a strange, strange world where Paul McCarthy has enough money to do whatever he wants. Before 2013, Mr. McCarthy, Los Angeles cult artist and, more recently, auction-house favorite, had not exhibited much in New York—just an obscene animatronic sculpture here, a scatological Pinocchio video there. Now, thanks to Armory artistic director Alex Poots, Serpentine Gallery co-director Hans Ulrich Obrist, CCS Bard executive director Tom Eccles and, of course, the invisible hand of the marketplace, we are not just getting the 68-year-old Mr. McCarthy's biggest ever installation, at the Park Avenue Armory, but also two simultaneous gallery shows at Hauser & Wirth's uptown and downtown spaces. As one contemporary artist quipped to me, "It's Paul-a-palooza."
It's true that the new multi-channel video installation "WS" is one of the dirtier art exhibitions you'll ever see—it more than earns its NC-17 rating (no children under 17 are allowed entry). But it is in its relationship to excess and capitalism that the piece's real shock factor lies.
Enter the room, and a vast, eight-channel video resembling high-production fetish porn about Disney's Snow White gibbers, jerks and rants in a continuous loop above an 8,800-square-foot, 20-foot-high enchanted forest made from painted Styrofoam. The piece clocks in at seven hours. The best vantage points on the video are viewing platforms on the right and left of the Armory's airplane-hangar-sized drill hall. But from these, you will miss the voyeuristic glimpses afforded by holes cut into the full-scale suburban American home reconstructed in the forest. Inside, wax dolls of several bodies have suffered humiliating, apparently sex-related deaths. A crime-scene atmosphere is pervasive, abetted by the fact that the video was filmed in a replica of Mr. McCarthy's childhood home. A dozen explicit films grunt and wail in "bunker" spaces on the margins of the drill hall. In fact, every room of the Armory is thrown open and stuffed with props, souvenirs for purchase, even a concession stand.
From the mayhem a story line emerges: Walt Paul (played by Mr. McCarthy) having invented the character White Snow (played by Elyse Poppers), owns her: "Neither daughter, sister, nor friend. You shall be no more than my slave," the demented Walt tells his princess. The tale of Disney creating Snow White, the film that made his career, with its overtones of Pygmalion and the Biblical creation myth, becomes a metaphor for making art, which in turn becomes the plot of a kind of soft-porn movie in which characters constantly switch roles. That Disney is also the founder of CalArts, and therefore the grandfather of the L.A. art scene, seems no more important than that the psychosexual drama is co-filmed by Mr. McCarthy's son Damon.
Although known mainly for extreme performance, video and sculpture, Mr. McCarthy thinks like a painter. An erstwhile L.A. Actionist, he eschews the Viennese arsenal of blood and guts for more American, post-Pop media: Hershey's Syrup, Ketel One vodka and Campbell's soup are the basis for the excremental splatter that derives from Jackson Pollock via Allan Kaprow.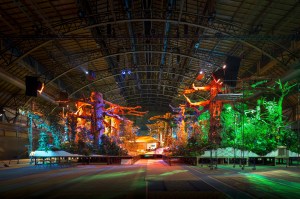 In an interview in 2003, Mr. McCarthy told The Guardian's Lynn Barber that for most of his career, he had refrained from representing women. "It might have been as a result of feminism and a position of not knowing how to represent the female," he said. In "WS," though, he takes an earnest stab at White Snow. He paints her in chocolate frosting, nearly smothers her in nonpareils and forces her to fellate a boom mike to tape her moans. She dances, naked, in an Edenic forest and throws a dinner-party orgy with the seven dwarves. In "The Prince Comes" a porn actor ejaculates into a lifelike silicone doll sculpted to resemble our heroine.  Through Ms. Poppers's body, McCarthy cites Duchamp's Étant Données, Jack Smith's 1963 Flaming Creatures, Manet's Olympia and Věra Chytilová's 1966 political masterpiece Daisies.
Mr. McCarthy, firmly of the "I wouldn't ask you to do it if I wouldn't do it myself" school of video art, is an actor in "WS," spending a portion of the video with, it would seem, a broom handle up his ass. Still, his use of Ms. Poppers, whose IMDB credits include roles like "party guest," and "starlet," makes you wonder if Mr. McCarthy, the formerly scrappy outsider, realizes he is now himself a card-carrying member of the big-budget patriarchy.
The whole experience of "WS" is framed within a fictional movie theater or theme park setting. You can buy peanuts and pick up a Disney Snow White doll signed by "Walt Paul." (Prices run from $10 for paper cups to $1,000 for a signed poster.) Ultimately, it's a psychosexual family drama about who gets screwed making cultural objects. If a little too much money was thrown at "WS," it is merely a reminder that we have created a society where far more obscene things are happening all the time. Considering that too much money is in the hands of the undeserving few, we are relatively fortunate that some has trickled down into the messy lap of Mr. McCarthy. (Through Aug. 4, 2013) —Maika Pollack