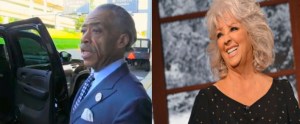 After being labeled a victim of the Al Sharpton/Jesse Jackson coalitions by some of her more fervent fans, the drama of Paula "Sambo Burger" Deen took a turn last night when Sharpton, confronted by TMZ on the street, cautioned against judging Deen's actions from over 40 years ago as a barometer for her current situation. (Reverend Jackson's Rainbow Coalition is still planning on investigating Deen's hiring practices.)
And though Reverend Sharpton was promoting not a defense of Deen, but merely saying she deserves a fair trial based on current evidence, Ms. Deen took his words as a sign of support.

[protected-iframe id="f5ed6245854552a191cbe3d0d4e67dab-35584880-35147716″ info="http://cdnapi.kaltura.com/index.php/kwidget/wid/1_571bpphf/uiconf_id/6740162/st_cache/11869?&" width="640″ height="360″]
"I think that it was just not about her using racial language," Mr. Sharpton told camera crews. "A lot of us have said things in the past that we regretted saying years ago."
However:
"I think she has a lawsuit now, about activities now, whether they were discreminatory and whether or not she's engaged in things now. It's not about her past and whether she's regained it I don't know, I think it's still in litigation."
When the cameraman ventured that the Rev was saying Ms. Deen deserves break, he shook his head:
"I mean she deserves what's fair…I think you cannot deal with what is fair and not fair till we seek out in the present the circumstances she's accused of, not something from 20 years ago."
Still not satisfied, the cameraman tries to bait Sharpton by asking him if there is a correlation between Paula Deen's fried chicken and the stereotype of black people loving fried chicken, to which the Rev responded admirably, refusing to take the bait, and instead talking about how he doesn't eat fried chicken or meats anymore.
"We've gone from having certain stereotypes be put to rest…they used to call me 'Fat Al,' and look at me now!"
Now, Reverend Sharpton was not saying the lawsuit against Ms. Deen alleging racist remarks and innapropriate workplace behavior and hiring practices (also: Sambo Burgers) is frivilous, just that she shouldn't be judged by her court testimonial that she had, at some point in her life, used the n-word.
But Ms. Deen took Reverend Sharpton's comments as an act of mercy, writing on Twitter: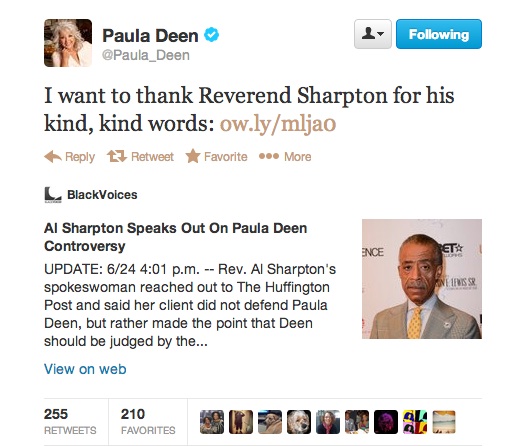 But Reverend Sharpton doesn't want to be associated with Ms. Deen's advocacy. From The Huffington Post:
Rev. Al Sharpton's spokeswoman reached out to The Huffington Post and said her client did not defend Paula Deen, but rather made the point that Deen should be judged by the present-day information being litigated in court, and not by something she said 27 years ago. "There is more current information that is being divulged that we might need to be concerned about," she added.