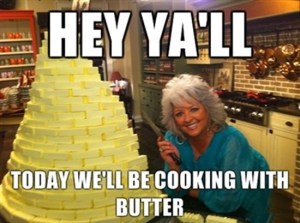 Paula Deen, Food Network cash cow, will not be having her contract renewed next month due to an alleged video acquired by the National Enquirer, in which Ms. Deen apparently said some very racist remarks during a deposition. The Daily News reported on her firing today, after the scandal broke about Ms. Deen's testimony, where she admitted that "of course" she had used the N-word in the past. (No, d'uh! Doesn't everyone?)
Instead of going on her scheduled Today show appearance this morning, Ms. Deen chose instead to release a personal apology via YouTube. Always a great PR move.

[youtube https://www.youtube.com/watch?v=jkwbyNKC9Kg&w=560&h=315]
And here's Ms. Deen's explanation:
After spending all day soul searching and trying to figure out how to deal with what I did, I recorded a video trying to do the right thing. In the end, Ifelt that I needed to just be myself, say I am sorry and beg for forgiveness.

What said was wrong and hurtful. I know that and will do everything that I can do make it right. I am not about hate, and I will devote myself to showing my family, friends and fans how to live a life helping others, lifting us all up, and spreading love.
Paula
Still no word on whether that loving spread will be made with her personal brand of flavored butter, or a margarine substitute.