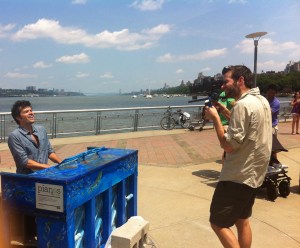 Two years ago, Blake Whyte stumbled upon a piano on Stone Street in Lower Manhattan and discovered Sing for Hope, the non-profit organization founded in 2006 that scatters 88 pianos throughout New York's five boroughs for weeks at a time.
A singer, actor and musician, Mr. Whyte was moved to get involved with the organization and began to apply his skills by performing in schools, hospitals and disability centers around the city as part of Sing for Hope's year-round mission to bring people together through the arts.
"What Sing for Hope is doing is exactly what I want to be doing in my music," Mr. Whyte, 31, told the Transom last Sunday on a pier in Riverside Park near West 70th Street. It was a beautiful, sunny afternoon, and Mr. Whyte, who for the past three years or so has performed as a Greek fisherman in the Broadway musical Mamma Mia!, was shooting a music video for his debut album, More Like Myself, which sounds stylistically closest to the music of Jason Mraz.
For the shoot, he was using a Sing for Hope piano, coated in a brilliant ocean blue and decorated with schools of fish by the local painter Nick Stavrides. (Each piano is specially painted, and they'll be in the city through June 16; the one in Orchard Beach, in Pelham Bay Park in the Bronx, is inspired by a cheery lyric from the title track of Mr. Whyte's album: "Love and friends and trees will set us free.")
"It's amazing how people interact when there's an instrument around," Mr. Whyte said, pointing to the nearby upright piano, at which a mother was piecing out a simple melody for her delighted child.
"I think the pianos should be in the city full-time," Mr. Whyte added. "They're not just trying to empower the community, they're trying to empower Manhattan."
With the help of his working band—including a drummer, bassist, guitarist, violinist and cellist—and a group of dancers from Mamma Mia! dressed in bright colors, Mr. Whyte was attracting a diverse array of onlookers as he worked his way through the video shoot.
"The scene is me feeling completely free," Mr. Whyte explained to the Transom before he ventured in front of the camera to perform a series of crowd-pleasing dance routines that had children and adults alike cheering him on.
The upright piano, which Mr. Whyte had already used in a prior scene, sat nearby as park-goers discovered Sing for Hope for the first time, like Mr. Whyte had two years ago. The piano had a stuck key, but that didn't stop an old man from sitting down before it to work his way through a few tunes.
The man—who was quite good—played lovely stride renditions of old Cole Porter songs ("I Get a Kick Out of You," "I've Got You Under My Skin") as the dancers and musicians did their thing. A group of French children, who had been pounding out dissonant tone clusters before Mr. Whyte began to sing, were politely seated in a row, watching the video shoot take place. The melodies and rhythms coming from the old man's piano didn't match the dancers' moves. But that hardly seemed to matter.